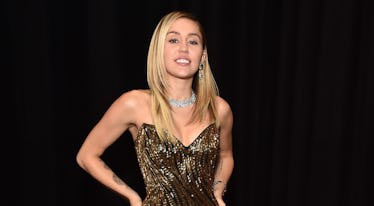 Miley Cyrus Walked The Grammys Red Carpet, But One Major Thing Was Missing
Alberto E. Rodriguez/Getty Images
It is Miley Cyrus's big night, but where is her fiancé? Cyrus and Liam Hemsworth's adorable relationship has been the stuff of fan love and Instagram cuteness for almost a decade now (on and off), so fans of the engaged couple were obviously very excited to see them together at the Grammy Awards this year. So, was Liam Hemsworth at the Grammys supporting Miley Cyrus? Surprisingly, it looks like he skipped the awards show this season.
Although Liam Hemsworth and Miley Cyrus have been pretty much inseparable since announcing their engagement, Cyrus' future husband was nowhere to be found when the red carpet. Miley Cyris arrived alone at the Grammys this year, rocking a black velvet gown and carrying a large white rose, which is the statement piece for the Time's Up movement at the awards show. She also wore the Diamond Baguette & Bezel Stacked Eternity Ring in yellow gold by Sydney Evan.
While Miley Cyrus was stunning on the red carpet, Liam Hemsworth was missing in action. Miley and Liam have been spotted together pretty much constantly since they announced their engagement at the end of 2016 — he even popped up for a hilarious cameo in Miley's episode of Saturday Night Live a couple months ago. But it looked like Hemsworth skipped out on accompanying Cyrus to the 60th Annual Grammy Awards. The last bit of news about Hemsworth came the day before the Grammys: TMZ spotted Hemsworth wearing what looks like a wedding ring near his Malibu home. I guess Hemsworth just decided to stay in Malibu rather than come up to New York for the Grammys this year.
Miley Cyrus was at the Grammys to perform a duet with Elton John. Although her recent country-pop album Younger Now was jussttt considered eligible for Grammy nominations this year (Cyrus released the album the day before the eligibility period ended), she did not receive any nominations at this year's awards. In lieu of Cyrus, the pop categories at the 2018 Grammys were dominated by Kesha, Lady Gaga, and Ed Sheeran. Interestingly enough, Kesha and Lady Gaga also broke away from their electro-pop backgrounds to release country-inspired albums this past year, just as Cyrus had done as well.
Miley Cyrus and Liam Hemsworth have been together since 2009, when they were both filming the Nicholas Sparks movie The Last Song together. Their relationship hasn't always been steady: The two dated on and off for about three years before announcing their engagement in 2012, but then they broke up the next year. However, they got back together again in 2016, and at the end of that year, they revealed that they had gotten engaged again. Now the couple is going strong, but still leaving fans guessing about when the two will be tying the knot. Both Miley and Liam are animal lovers and vegans.
Due to how close the couple has been, on top of how private they are and how long their engagement has lasted, there have been a bunch of rumors that Miley Cyrus and Liam Hemsworth may have already tied the knot in secret. These wedding rumors have been pretty constant throughout the past year, but it just seems like the two are happy in their engagement and are not rushing into a wedding anytime soon.
Although Liam Hemsworth was not physically present at the Grammy Awards this year to support his fiancé Miley Cyrus while she performed a big duet with Elton John, fans can be sure that he must have been watching the event at home in Malibu... the place that inspired Cyrus' romantic comeback single "Malibu." I'm sure he is ready to send a super-supportive, congratulatory text to Cyrus after she kills her big performance.