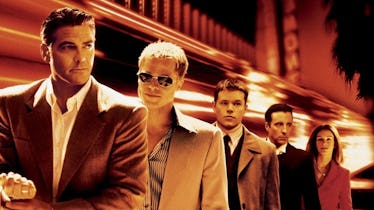 Fans Are Desperate To Know If This 'Ocean's Eleven' Character Has An 'Ocean's 8' Cameo
Warner Bros.
The all-female main cast starring in the upcoming Ocean's 8 has redefined the meaning of "squad goals," but for old-school fans of the Ocean's franchise, this admirable lineup of women seems like it has one important component missing. Focusing on the heist adventure of Danny Ocean's estranged sister, Ocean's 8 has yet to hint at any cameos from the original films' token woman, Julia Roberts, who played Danny's ex-wife Tess. A look at the very male-dominated Ocean's Eleven cast list makes me to see Roberts among fellow ladies ASAP, but is Julia Roberts in Ocean's 8? We could be in for a surprise when the movie hits theaters this week.
Ocean's 8's all-star cast includes Sandra Bullock, Cate Blanchett, Anne Hathaway, Mindy Kaling, Rihanna, and more in this spinoff centered around Bullock's Debbie Ocean. Taking a page out of her brother's book, Debbie decides to attempt one of the biggest heists yet at New York's annual Met Gala with the assistance of a crafty team of women. Proving that girls literally rule the world, Ocean's 8 has already distinguished itself from the previous films by simply putting women in charge of these complex, dangerous plans.
In the original trilogy, Julia Roberts and Catherine Zeta-Jones, whose character Isabel Lahiri first appeared in Ocean's Twelve, reportedly chose not to appear in the third film, Ocean's Thirteen, because there was no room in the script for their own storylines. Although there will be fleeting cameos from original Ocean's cast members, Ocean's 8 has redeemed that previous script snafu by putting women front and center. But does that mean it will honor the women of the past by bringing Roberts back?
So far, there's no official word about Roberts being involved in the new film. However, Ocean's Eleven star Matt Damon is expected to make a cameo as his old character Linus Caldwell and, according to CinemaBlend, he's even hinted at other actors briefly appearing in former roles, saying:
It's just a very small cameo. I'm not really in the movie a lot... I think there are a few of us who pop up really quickly.
Also due to reappear is Carl Reiner, who starred as Saul Bloom in the original films. No one else has leaked tidbits about their involvement, but we can easily eliminate the possibility of seeing one key character. In a blink-and-you-missed-it moment, the first Ocean's 8 trailer seems to confirm that Danny Ocean, aka George Clooney, is dead, showing Debbie near his gravestone.
When it comes to predicting a possible cameo from Roberts, things are a little trickier. She hasn't seemed to address the chance in any recent interviews, making it difficult to even speculate about whether a cameo would even be appealing to her. While she reunited with Ocean's love interest Clooney in the 2016 film Money Monster, Roberts has given no hints about Tess reconnecting with her sister-in-law Debbie.
There's been radio silence from Roberts, but Bullock has been vocal about what the female-helmed action film means for herself and her co-stars. Speaking to PEOPLE, she said about the cast:
It felt like it was a long time coming. Too long if you ask me — which you did — but I'm just so grateful that it happened. It felt like we had all been kept in solitary confinement from each other. Kind of like an 'actress quarantine' and when we all found ourselves like sardines in the trailer that first day, it was like the dam burst and we all made up for lost time.
With or without Roberts, I know I'll definitely enjoy Ocean's 8 for this special representation of women alone. Ocean's 8 is in theaters beginning Friday, June 8.