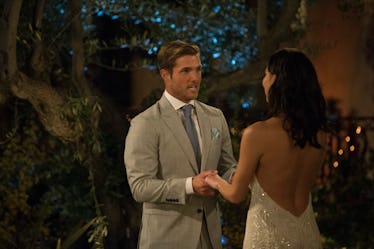 Model Jordan Was Kicked Off 'The Bachelorette' But Fans Think He's Perfect For 'Paradise'
ABC/Paul Hebert
Week 5 of The Bachelorette was a rollercoaster of romantic ups and dramatic downs. Becca had a magical 1-on-1 with Colton, Chris' inflated confidence following a group date that involved Wayne Newton (you read that correctly) almost cost him a rose, and Jordan and David's tense 2-on-1 resulted in a double elimination. So now that he's no longer in the running for Becca's heart, is Jordan going to Paradise? The model is honestly kind of the perfect candidate for more dating show shenanigans, so Bachelor Nation wouldn't be surprised to see him rocking those gold hot pants on the Mexico beach.
Update: On June 26, it was announced that Jordan will be joining the cast of 'Bachelor In Paradise' Season 5.
Jordan's Bachelorette journey has been... interesting. He was immediately pegged as a contestant to keep an eye on due to his consistant comments about his good looks, superior style, important image, and his "pensive gentleman" brand. He continued to cause in-house fighting — mostly with David — when he talked up his Tinder statistics, claiming he had upwards of 4,000 matches last year. David and him didn't get along from then on — Jordan didn't even seem to mind much when David went to the hosptial for a brutal bunk bed injury. In fact, he reveled in his supposed "victory." The two guys needled each other and not-so-passive-agressively got on one another's nerves until it all came to a head at a 2-on-1 desert showdown.
David and Jordan's feud didn't benefit anyone in the end. First David tried to throw Jordan under the bus, saying the model saw being with Becca as "settling." This infuriated Jordan and he went on a rant against David, calling him "worse than Arie," among other pointed insults. He tried to tell Becca he was in it for the right reasons and that David was a liar. The men were locked in battle of he said, he said that ultimately frustrated Becca (rightfully so), leaving her no choice but to send them both packing. She had no time for David's pettiness and bad-mouthing, so he got the boot first. Jordan's vulnerability allowed him to hang on by a thread for a dinner date, but that time with her couldn't save him.
One thing about Jordan is that he stood out. He stirs the pot and his remarks are memorable to say the least, which is why some fans are hoping his affiliation with the Bachelor-verse isn't completely up. And who knows? Maybe David will join him for round two.
‌
There's no official word on Jordan's BIP status, although he seems like a natural fit for the steamy summer spinoff. What has he been up to since his Bachelorette stint? The Florida-based model has been showing off his posing finesse on social media. On May 31, he posted a photo on Instagram of him holding a duffel bag. The caption read: "Ready for a trip." Hmm. OK, he did tag a travel accessory brand, so the picture might just be associated with another modeling gig. He also tagged Miami Fashion Week, which took place that week. Perhaps Playa Escondida could be his next destination. Filming for Bachelor in Paradise Season 5 reportedly kicked off earlier this month.
‌"Think of Ben Stiller's character in Zoolander. He's a model, and he's all about the model life. You'll learn a lot about the model life — the pitfalls and the hurdles. And Jordan wears underwear to a rose ceremony. He's a very confident, good-looking guy, but he's also very much a model. He brought his A-game," host Chris Harrison noted about Jordan prior to the season.
If anything, that "model life" attitude makes for good reality TV.
Bachelor in Paradise premieres August 7 on ABC.