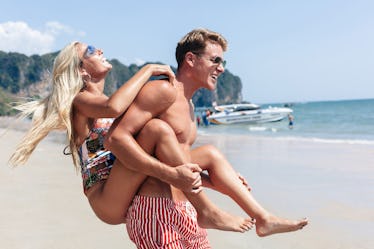 Here's Why Experts Say It's OK To Ask For A Honeymoon Fund Instead Of Wedding Gifts
Weddings are expensive. I know, I know — hot take! But seriously, once you've spent all your money on your special day, there may not be enough for the best wedding tradition of them all: The honeymoon. And after all the stress and drama that goes into putting together a wedding, you really need a vacation. This is why some folks are opting to skip the standard gift registry in lieu of cash for their honeymoon. The question is: Is it OK to ask for a honeymoon fund, or is that considered poor wedding etiquette?
Since I hope to be married one day and go on a fabulous honeymoon, this sounds like fantastic idea — so I reached out to the experts. I wanted to get their take on whether it really is appropriate to ask wedding guests to chip in for your honeymoon, instead of springing for some flatware or other home goods that, let's be honest, you probably already have or don't really need. While there are definitely some caveats to be aware of, the experts were basically unanimous in their answer that, yes, it's totally fine to go the honeymoon fund route. Here's what else they had to say on the subject, including the best way to go about it.