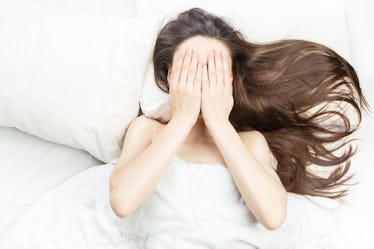 It's Totally Normal To Feel Self-Conscious During Sex, But Here's How To Overcome It
My friends jokingly refer to me as a "never-nude" after the Tobias character on Arrested Development who won't even shower without his jean shorts on. It's funny, because it's true. Whatever the opposite of a nudist is, I'm that. However, there is one place I'm not afraid to get ~nekkid~, and that's the bedroom. But that wasn't always the case, because like so many other folks, I was nervous about being seen without my clothes on. But, is it normal to be self-conscious during sex?
According to Kelley Kitley, a psychotherapist and licensed clinical social worker, the answer to that is absolutely. "We all feel self-conscious about our bodies based on a wide variety of reasons such as, just had a baby, around the time of our period, recently gained weight, not feeling sexy just because," she tells Elite Daily. "I would love it if we never felt this way, but we are humans and have a wide range of emotions which are sometimes parallel with how we feel in our bodies. However, we can always work on becoming more body positive and work through negative thinking," she adds.
If being nervous about being naked in front of others is common, how do we get over it? To answer that question, I asked the experts for practical advice on how to become more confident during sex. Here is how they say to do it. (And, spoiler alert: None of their advice includes going on a diet.)