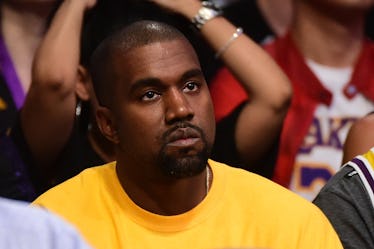 This Song On Kanye West's New Album Has Fans Wondering One Major Thing
Harry How/Getty Images Entertainment/Getty Images
On Friday, June 1, Kanye West released his highly anticipated album, Ye. The seven-track album addresses several controversial topics that have been linked to West since late 2016, when he was admitted to the hospital and took a break from the spotlight. In Ye West's eighth studio album, he talks about everything from Stormy Daniels to his diagnosis of bipolar disorder, but one song stands out more than the rest, which poses the (very chilling) question: Is "I Thought About Killing You" about someone?
"I Thought About Killing You" is the very first song on the album, and while we can't be 100 percent sure who exactly it's about, if anyone, there are a few key things we can infer from listening to the track. He talks about how he "seriously thought" about killing someone, and about how he also thought about killing himself, saying, "I think about killing myself, and I, I love myself way more than I love you." According to contributors at Genius (seriously, what would we do without them?), Kanye may be pointing to his addiction to opioids, "which can cause harsh respiratory depression."
On the track, Kanye goes from rapping to spoken word, and repeats, "The most beautiful thoughts are always the darkest," several times. According to Genius, this could be a "twisted take on the duality of darkness and light," or simply about "the notion that beauty and tragedy go hand-in-hand."
The song is dark, to say the least, and it gives us a possible window into what the rapper was feeling throughout his time off. Even though Kanye doesn't directly mention any one person, Genius suggests he may be referring to JAY-Z. Random? Not so much.
How you gon' hate? N***a, we go wayyy back. To when I had the braids and you had the waveee cap. Drop a pimp of the fade and I'm on my way ASAP.
These are the only semi-identifying details included in the song. According to Genius, West used to wear his hair in braids in the early 2000s, while JAY-Z wore his in a wave cap (or durag). The two rappers have beef that goes way back. They were friends and collaborators (remember Watch the Throne? Ugh. TBT.) until JAY-Z and Beyoncé were MIA at West's wedding to Kim Kardashian in 2014. In a two-hour radio interview with Charlamagne Tha God, West said, "I was hurt about them not coming to the wedding. I understand they were going through some things, but if it's family, you're not going to miss a wedding." He then said he was "past it, but at the time I was hurt."
Their relationship went downhill after that, especially when West called out Jay on stage at an October 2016 concert, where he ranted about how his daughter, North, and Jay's daughter, Blue, hadn't even played together. He also referred to Kardashian's Paris robbery, saying, "Don't call me after the robbery, and say 'how you feelin?' You wanna know how I'm feelin'? Come by the house." Jay was reportedly most bothered about West having mentioned Jay's family on stage, understandably.
"What really hurt me, you can't bring my kid or my wife into it," he told Rap Radar. "We've gotten past bigger issues, but you brought my family into it, now it's a problem with me."
People reports that the two stars continued to feud following West's rant, mostly about Jay's music streaming service, Tidal, and financial disputes tied to it. Jay told T, The New York Times Style Magazine that he was back on speaking terms with West in November 2017. So, we may never find out if "I Thought About Killing You" is about anyone in particular.