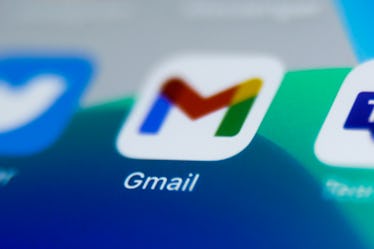 It's Not You, It's Gmail — Google's Email System Is Reportedly Experiencing Worldwide Outages
NurPhoto/NurPhoto/Getty Images
People from across the world signed on to start the work week and were greeted with some apparent Google Suite service issues on Monday, Dec. 14. If you're having problems logging in to your Gmail account, you're probably wondering if Gmail is down. The latest updates about this reported Dec. 14 issue with Google's email system are not too promising. Elite Daily reached out to Google via Twitter on Dec. 14 for comment on the apparent issue, but did not hear back at the time of publication. As of 7:35 a.m. ET, services began returning to some users, but others on Twitter were still reporting outages. Google reported a full return to service on its dashboard as of 7:52 a.m. ET.
According to Down Detector, issues with Gmail spiked to 28,491, at 3:51 a.m. PT/6:51 a.m. ET on Monday, Dec. 14. Just prior to that, as of 6:11 a.m. ET, Gmail was responding to users on Twitter that there was not an issue, according to the company's Gmail Twitter account. But as of 7:30 a.m. ET, Twitter users still seem to be reporting Google Suite issues with Gmail, Sheets, Docs, etc.
If you tried to log in to Gmail on Monday, Dec. 14, you may have gotten notice of a Temporary Error stating that your account was temporarily unavailable and to try logging again in a few minutes. The 500 error message recommended viewing the G Suite Status Dashboard for the current status and performance information of services and visiting Google's Help Center if the problem persists. The 503 error message indicated a problem with the server.
According to the G Suite Status Dashboard, all Google Workplace services were experiencing a service outage as of 6:55 a.m. ET on Monday, Dec. 14. Some of the popular Google services affected include Gmail, Calendar, Drive, Docs, Hangouts, Chat, Meet, Voice, and more. The outage is also happening to Google products outside of its Workspace services, such as Maps, Analytics, Classroom, and Blogger.
Just under an hour after that, at 7:52 a.m. ET, the dashboard reported "the problem with Gmail should be resolved for the vast majority of affected users." In addition, the company shared on the dashboard that it would "continue to work towards restoring service for the remaining affected users, but no further updates will be provided on the Google Workspace Status Dashboard."
Users were reporting issues with the email system using the hashtag #googledown and #gmaildown, which were trending on Twitter at the time of the outages. Plenty of people were sharing memes and jokes to express their frustrations at the worldwide outages, especially the fact they had to go to Google to see what was wrong with Google...
With so many using Google services for work and school, there were of course jokes about how it was very on-brand for 2020:
Jokes aside, as of 8:40 a.m. ET, things seem to be back to normal, but according to Google's official dashboard, the outage lasted for at least an hour. According to a statement from a Google spokesperson at 10:32 a.m. ET, the problem was with a storage quota issue: "Today, at 3:47 a.m. PT, Google experienced an authentication system outage for approximately 45 minutes due to an internal storage quota issue." They added, "Services requiring users to log in experienced high error rates during this period. The authentication system issue was resolved at 4:32 a.m. PT. All services are now restored."
Here's hoping it's the first and last tech issue of your week!