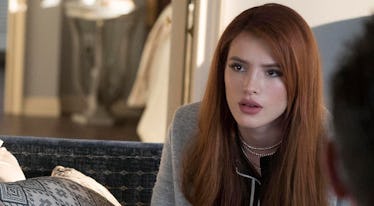 Freeform Reportedly Canceled Bella Thorne's Show Without Telling Her & She's Not Happy
Freeform
Paige Townsen's rise to fame may be over, and Bell Thorne is just as confused about its abrupt end as the rest of us. On Tuesday afternoon, reports began coming out that Thorne's Freeform series Famous in Love had been canceled by the network, but after Thorne reacted in shock to the news, now it is sounding like the cancellation might just be a rumor. So, what is really going on here? Is Famous in Love canceled or not? Let's try to make some sense of the confusing situation.
On Tuesday afternoon, Bella Thorne retweeted a SpoilerTV article claiming that her series Famous in Love had been canceled by Freeform. The post was aggregated from a Hollywood Reporter report, in which an unnamed source said that Freeform had decided not to renew Famous in Love for a third season because the series had become too expensive to produce and the network's streaming partner Hulu was not willing to contribute to the production costs.
The cancellation report came as a surprise to Bella Thorne. The star wrote that she was upset that she might have found out about Famous in Love getting axed from an online report and not from a call from the network. Apparently, Freeform had not yet contacted Thorne with news about the show's future.
The cancellation rumors and Bella Thorne's tweet prompted Famous in Love showrunner I. Marlene King to sound off on what is going on with the show behind the scenes. She wrote that the entire Famous in Love cast and crew is still waiting to receive official word on a Season 3 pickup.
I. Marlene King also denied the rumor that she and Bella Thorne had a volatile relationship on the set of the show. In the initial Hollywood Reporter article, unnamed sources claim that Thorne exhibited "diva-like behavior" on set and clashed with King. The sources went on to claim that the show's cancellation came as a relief to both the star and the production team, saying that Thorne wanted the series to end.
Clearly, these claims seem false following Bella Thorne's shocked and upset response to the cancellation rumors, and I. Marlene King further squashed the gossip by tweeting that she and Thorne have always had a friendly and professional relationship. Thorne retweeted King's statement about their relationship to verify it from her end.
So, it sounds like that cancellation report is nothing more than a rumor, but even though Freeform has not officially picked up or canceled Famous in Love yet, things do not look too good for the teen drama. Ratings reports showed that the show's second season, which concluded last month, lost a significant amount of viewers from the first season's average. However, Deadline reports that the Season 2 ratings were growing as the season wrapped up, plus the facts that Bella Thorne has major pull on social media and I. Marlene King is one of Freeform's top showrunners are definite reasons for the network to consider renewing the show.
As of right now, Famous in Love's future remains totally uncertain, but now that these cancellation rumors have come out, fans can probably expect Freeform to make an official decision pretty soon. Although Season 2 experienced a bit of a ratings lull, the show still has vocal fans on social media and the recent season finale included a number of cliffhangers that really need resolution in a third season. If it is picked up, Famous in Love Season 3 will likely premiere sometime in early- to mid-April of 2019, around the same time that its first two seasons premiered. Keep your eye out for Freeform to make an official announcement on Famous in Love's future very soon!