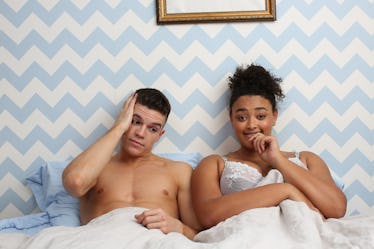 4 Unfortunately Practical Reasons To Avoid Hooking Up With Your Dormcest Crush
Ashley Batz/Bustle
On the hierarchy of dorm life faux pas, committing dormcest falls somewhere in the middle. It's less severe than hooking up with your RA, but more of a thing than forgetting to sign out your overnight guest. When it comes down to it, though, is dormcest a bad idea?
Some people would say yes, based on personal experience. Others who have done it believe it makes for a fun — if somewhat scandalous — college hookup story. You might just need to hook up with someone on your floor and decide for yourself whether or not it's worth it. But if you're looking for reasons not to do it, there are plenty of valid arguments against dormcest.
"While it may be seamless to fall for someone you probably see all the time, there are some considerable downsides to consider," Julie Zeilinger, author of College 101: A Girl's Guide to Freshman Year, told Elite Daily. "If things don't go well, then it can make for an incredibly uncomfortable living situation. Your room and dorm generally should be a place of refuge where you feel most comfortable, not somewhere you feel you need to avoid or tread carefully."
I'm not one to judge women who choose to engage in dormcest — trust me, I'm not. All I'm saying is that it can lead to a number of logistically awkward situations. Here are four practical reasons you might want to think twice before hooking up with someone in your dorm.