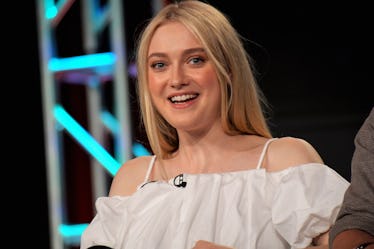 Dakota Fanning Is A Lot Older Than You Realize & She's Presenting At The SAG Awards
Charley Gallay/Getty Images Entertainment/Getty Images
Dakota Fanning is all grown up and will return to TV for the first time since 2004 with her upcoming TNT series The Alienist. The 23-year-old star is also part of the all-female lineup of SAG Award presenters on Jan. 21, so 2018 is quickly turning into the year of Fanning's mainstream comeback. You may think of Fanning as your kid sister, but now that she's back in the spotlight, we want to know: Is Dakota Fanning single?
She was busy with college at NYU's Gallatin School of Individualized Study for a few years, focusing on the role of women in film, but it seems that, even then, dating was never too important to Fanning. In a 2013 Glamour interview, she discussed how her parents' relationship influenced her view of dating:
[My parents] got married right out of college. I've always thought that's what it's supposed to be like, and if it's not, then I don't want to waste time on it. Even when I was 14, I was like, 'I'm not gonna marry this person. What's the point of doing it?'
However, later that year, Fanning found love, beginning to date then-32-year-old model Jamie Strachan when she was only 19. Despite the huge age difference, the couple were together until 2016, and soon after the split, she spoke to Town & Country about her dislike of dating.
The way I prefer to meet someone is through a friend...I find dates, in general, horrific. We have to sit there and ask these questions and pretend to eat a meal, and it just feels so stiff.
Like so many of us do post-breakup, Fanning then appeared to return to something familiar. In December 2016, she was photographed in New York holding hands with old high school beau Logan Markley. Sources said that the two dated for a year while at Los Angeles' Campbell Hall Episcopal High School, and it apparently was a picture-perfect teenage romance. Fanning was a cheerleader and Markley played on the football team — can I make it any more obvious?
Fanning was still at NYU at the time, while Markley lived in the city and worked as a broker at a successful commercial real estate firm. High school reconnections are cute, but this one didn't seem to last. Until a few months ago, Fanning appeared to be laying low both publicly and romantically.
Reports of Fanning having a new boyfriend emerged this past October, after a friend of Fanning's posted quite the lovey-dovey Instagram photo of the star with Henry Frye. Sharing a shot of the two licking each other's faces, the friend captioned the photo "lovers." This shot was followed by several paparazzi shots of Fanning and Frye attending New York sports events together and walking through the city.
As of last month, the two were still together, once again being photographed walking in Manhattan a few days before Christmas. According to Frye's Facebook page, he also lives in New York and previously attended the University of Vermont.
In classic Fanning fashion, she has stayed low-key when it comes to talking about her relationship, which she has said ties back to the way she was raised:
I was raised by very traditional Southern parents with Southern manners. You don't air your dirty laundry to people that aren't your family or your friends.
Fanning has kept the public's focus on the debut of The Alienist, which airs on Jan. 22 at 9 p.m. ET.
Although the 19th century thriller series seems pretty intense, Fanning has also shown that there is nothing but love between her and her castmates Luke Evans and Daniel Bruhl.
What with the SAG Awards occurring only a day before the premiere of The Alienist, perhaps we'll catch a glimpse of Frye with Fanning on the red carpet.