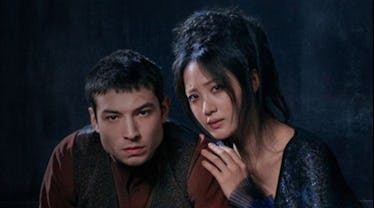 This 'Fantastic Beasts 2' Theory About Credence Could Be An Epic Game-Changer
Warner Brothers
Fantastic Beasts & Where To Find Them stunned audiences two years ago with a twist. The movie about a little Hufflepuff and his escaped magical creatures was really the prologue to a much larger story, one which would end in 1945 when Dumbledore and Grindelwald faced off for domination of the Wizarding World. With the coming release of Fantastic Beasts: The Crimes of Grindelwald, fans are already on edge for more startling revelations, especially for the characters introduced in the first film. For instance, is Credence a Lestrange? Fans studying the cast list believe they have found proof.
This theory appeared when the first Fantastic Beasts 2 trailer dropped last spring. Most of the attention was paid to moments like Aurors apparating onto Hogwarts grounds, something which there are wards against in the 1990s, and young Dumbledore standing in the Defense Against The Dark Arts classroom instead of Transfigurations.
But there is one shot where the shadowy figure of Dumbledore is looking at a family tree in a sewer tunnel. In it, both Leta Lestrange and Credence Barebone's names appear. With the return of Credence, the adopted Obscurial from the first film, fans hopped on the train at once this would be Barebone's family reveal.
Now more proof seems to have surfaced. The new casting breakdown caused excitement when fans discovered Young Minerva McGonagall would appear in the film. But alongside her, there is Keith Chanter, playing the role of Corvus Lestrange, Sr.
Corvus has, as far as viewers know, two children. His legitimate daughter, Leta Lestrange, and his illegitimate son, Yusuf Kama.
He has no son named after himself. Therefore, nothing necessitates a "Sr." designation to differentiate from Corvus Lestrange, Jr. Furthermore, the completed casting list has no one listed for a Corvus Lestrange, Jr. So the question is, what happened to the third child, and who is playing him?
The resulting conclusion is Credence Barebone will learn his true identity in this installment. But it also brings up tons of questions. If Credence is the son and heir of the Lestrange fortune, then why was he sent to America and raised by a horror like Mary Lou Barebone? Does Corvus know his son is alive? Is this why Yusuf Kama has taken an Unbreakable Vow to track down Credence in Paris or die trying?
But just as importantly, how will Credence react to finding out? Fans already know his best friend and perhaps lover, Nagini, will eventually turn into a snake. Faced with such a loss, will reveal of his place in a high ranking and pure wizarding family be a welcome discovery or just another brick in the wall?
Also, it will be interesting what happens when Leta Lestrange discovers she has a brother she doesn't know about. In the first film, fans assumed she was someone who followed in her family's beliefs about the superiority of pure-blooded wizarding families. But could discovering how terribly her dad treated his own son break her away from her family, and side with Newt and friends?
Fantastic Beasts: The Crimes of Grindelwald arrives in theaters on Friday, Nov. 16, 2018.