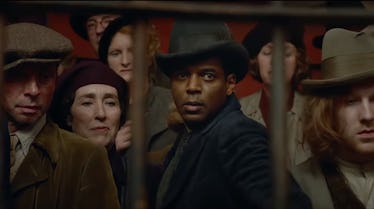 Here's What 'Fantastic Beasts' Fans Should Know About This New Character
Warner Brothers
Fantastic Beasts: The Crimes of Grindelwald is less than a month away from its release. Fans are excited to see returning favorites in the new film, like Newt Scamander from Fantastic Beasts and Where To Find Them and Albus Dumbledore from the original Harry Potter series. But this film will also introduce brand new characters as well. These characters are living in Paris, including Yusuf Kama, who is resident of the French wizarding world, and part of a new culture viewers will experience. Who is Yusuf Kama in Fantastic Beasts? Pottermore will be releasing a guide to all the new faces, including his.
Played by actor William Nadylam (Forgotten Girls, SK1), Kama is a French-African wizard. According to Pottermore, he claims to be a pure-blooded wizard, the last of his family line. It's precisely the sort of pedigree and attitude Grindelwald (Johnny Depp) would be looking for when he arrives in Paris, in hopes of gathering forces to move against the Muggle populations of Europe.
But though he's mostly been seen in crowd scenes, the new intel on his character is he's on a mission to track down the escaped American wizard refugee, Credence Barebone (Ezra Miller). This suggests he's working for the French Wizarding Government, at least for now.
According to Entertainment Weekly, which got a first look at the Yusuf Kama entry in the upcoming guide:
[F]or the first time, we can reveal that Yusuf has actually taken an Unbreakable Vow to track Credence down — a magical promise meaning that if he doesn't fulfill his task, he will die. We saw Severus Snape make one of these vows during Harry Potter and the Half-Blood Prince, promising to assist Draco Malfoy in Albus Dumbledore's murder. So, as you can see, Unbreakable Vows are usually reserved for quite serious things, rather than, say, promising to make someone a cup of tea.
Taking such a vow shows Kama means business. But why? Is he working for Grindelwald? Or is he working to keep Credence away from Grindelwald?
The clue may be in who Kama's father is:
Yusuf also has a connection to Leta Lestrange (Zoë Kravitz) in the new film: he's actually her half-brother. How? Well, again, according to his biography, Yusuf's mother was "taken" by an evil wizard called Corvus Lestrange, and ended up having a child with him — Leta. But why the obsession with Credence?
While Credence is technically an orphan in the films, more than a few fans have a theory Credence is actually related to the Lestranges. A shot in one of the trailers of a family tree projected on a tunnel wall seemed to connect the two. The guess is Corvus had relations with Credence's mother, too. If so, this makes Yusuf, Credence, and Leta all half-siblings. It also gives Yusuf a personal reason to try to save Credence from Grindelwald's clutches, or at least a sympathetic angle towards his story.
Fantastic Beasts: The Crimes of Grindelwald will arrive in theaters everywhere starting Nov. 16, 2018.