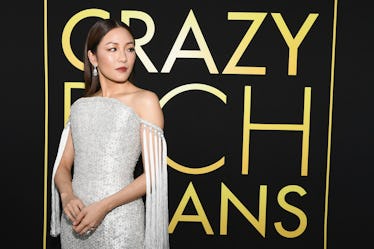 Here's Everything Fans Should Know About 'Crazy Rich Asian's Constance Wu
Emma McIntyre/Getty Images Entertainment/Getty Images
Crazy Rich Asians has been out for a month, finally slipping to the number two spot in its fourth weekend at the box office. The film's total haul after a month of release is over $136 million, and that's just domestically (the movie opens in the UK this weekend). Audiences everywhere are enamored with the story of Rachel Chu's love life. But what about the real-life actress who plays her? Is Constance Wu single? Or does she have a fairy tale romance of her own?
Constance Wu didn't become a household name overnight. Television fans knew Wu long before from the highly-rated ABC sitcom Fresh Off the Boat, where she stars as Jessica Huang. But Wu doesn't talk much about her own love life. In her interview with the LA Times when Crazy Rich Asians first landed, she talks about her time growing up in Richmond VA before moving, first to New York City, and then to Los Angeles, where she struggled to find roles. But there's no Prince Charming in sight.
As far as the tabloids can tell, this is due to her being pretty private about these things. Her last relationship began in 2011. The only reason anyone knows is she tweeted about it, four years later in 2015.
Ben Hethcoat, for the record, is someone who also works in the television business. According to his resume:
Ben Hethcoat is an independent filmmaker based in Los Angeles. He was Director of Slamdance TV and documentary programmer for the Slamdance Film Festival from 2012-2014. His documentary short, DIY, is all about independent filmmaking and features interviews with Christopher Nolan, Penelope Spheeris, and Rian Johnson (among others).
So not the Prince Harry of Asia. But it doesn't matter, because according to Superb Hub, Wu and Hethcoat look to have called it quits, with many of the social media posts featured the other disappearing.
Moreover, in all of her public appearances on the red carpet and other press junket events, Wu has turned up either single, with her movie co-stars, or with the director of the film.
But this doesn't mean Wu lives her life all alone. According to her Instagram, she has one of the best relationships ever, with her pet bunny Lida Rose.
Talking to Refinery29, Wu says of the love of her life:
Bunnies are kind of like cats: They groom themselves. But you don't want them to swallow too much hair because, unlike a cat, the bunnies don't have hairballs, they can't spit it up. I'll brush her with a flea comb, not because she has fleas, but just because it gets the excess hair out. She pretty much keeps herself clean. I might give her a bath once every six months or so, but she's pretty low-maintenance in terms of cleanliness…. She's got a litter box and everything — just like a cat.
Lida Rose sounds like the best sort of partner. Bunnies may not be able to fly anyone anywhere first class, but they don't usually have terrifying mothers-in-law either. Trade-offs!