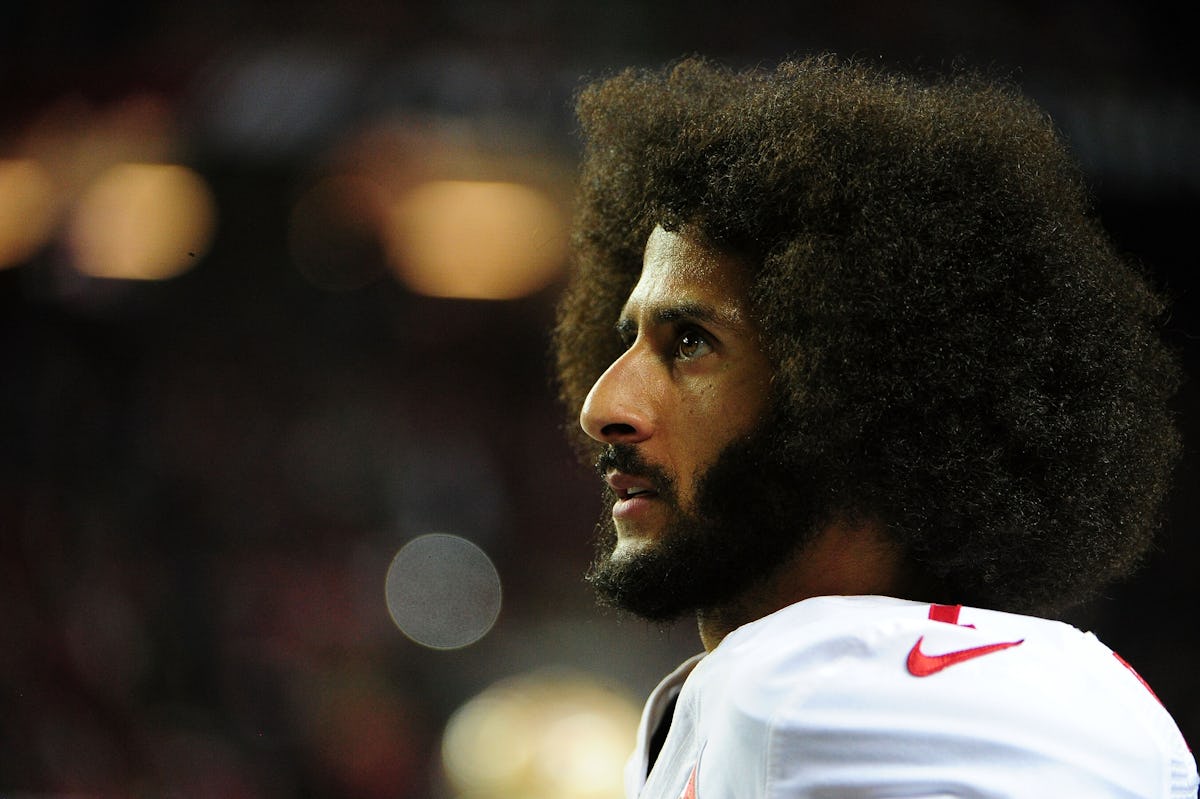 Colin Kaepernick Might Not Kneel For The National Anthem Anymore, Report Says
Scott Cunningham/Getty Images Sport/Getty Images
Sunday football games have taken a political turn, and one quarterback got the ball rolling. It appears the protester behind the controversial #TakeAKnee movement is — possibly — rethinking his strategy in order to make a comeback into the big leagues. Colin Kaepernick's national anthem protest might be over if he's given a chance to play in the NFL again, according to one CBS reporter, though it's not certain if that's actually the case.
Jason La Canfora of CBS Sports met with Kaepernick on Oct. 7 and paraphrased his thoughts about the discussion with the unsigned QB. According to the Associated Press, La Canfora said,
He's not planning on kneeling. He's going to donate all his jersey sales and he's planning on standing for the anthem if given the opportunity.
@NFLonCBS tweeted video footage of La Canfora's "main takeaway." La Canfora detailed that the ex-San Francisco 49er is living in New York City and working out in New Jersey. After his days focusing on football, Kaepernick supposedly makes his way into Harlem to work alongside children of the community. The commentator further stated in the video,
He's just looking for an opportunity. He understands that there's you know, controversy in things that come with him, but as a football player, he's hoping to be judged in that manner.
La Canfora also discussed the player's choice to stay quiet in the media and his desire to make his way back into the league.
Take a look at the footage for yourself.
However, those closest to Kaepernick — and even Kaepernick himself — have pushed back on reports about his protest.
The player's girlfriend took to Twitter to deny that the player made comments about not kneeling if it means getting back into the NFL.
And Kaepernick apparently decided to address it with a quote, presumably referring to the incident with a tweet reading, "A lie gets halfway around the world before the truth has a chance to get its pants on."
Kaepernick, who began kneeling during the national anthem in 2016 as a protest against police brutality and racial bias, has been unable to find a team to sign him since he left the San Francisco 49ers in March.
The journalist responded on Twitter to address the issue.
He claimed he did not specifically ask the football player about his stance on kneeling during the anthem when they spoke on Oct. 7. He had said just discussed Kaepernick's "will to play" and that his statements on CBS simply relayed previous reporting, according to the AP.
Regardless of Kaepernick's eagerness to get back on the field, his actions have certainly caused a wave of emotions.
Some agree with his viewpoints, others want football to remain free of politics... but it might take some time before that actually happens. As recently as Oct. 8, Vice President Mike Pence walked out of a football game between the Indianapolis Colts and San Francisco 49ers because players decided to #TakeAKnee and protest the current political climate. But naturally, the commander in chief claimed he was the one advocating for this move.
President Donald Trump — who has been fighting with the NFL for weeks — urged the vice president and his wife to leave the game if any of the players protested.
Since Twitter is the way sources and politicians confirm things nowadays, Vice President Pence followed up with a tweet of his own.
He defended his actions and the president's as well. He wrote,
At a time when so many Americans are inspiring our nation with their courage, resolve, and resilience, now, more than ever, we should rally around our Flag and everything that unites us. While everyone is entitled to their own opinions, I don't think it's too much to ask NFL players to respect the Flag and our National Anthem.
Kaepernick will definitely go down in history for his mark on football and the community. Time will tell what will happen when — and if — he makes his return to the NFL.