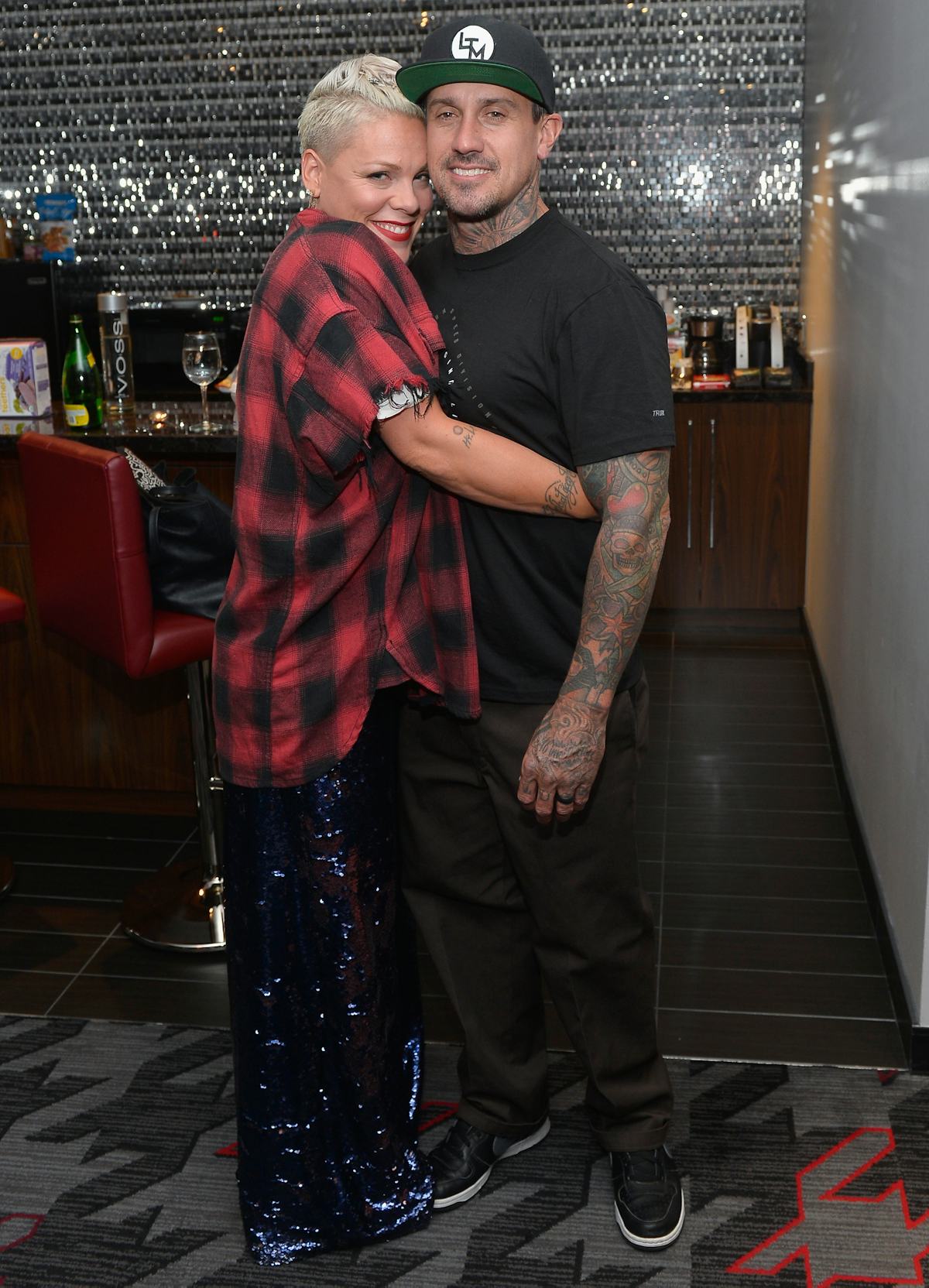 Carey Hart Won't Miss A Second Of Pink's Big Performance At The Super Bowl
Bryan Steffy/Getty Images Entertainment/Getty Images
It's Sunday, Feb. 4 — and I hope you know what that means. The 52nd Super Bowl is finally upon us, party people. Our hearts are going to skip a beat when the Philadelphia Eagles and New England Patriots take the field at U.S. Bank Stadium in Minneapolis. The pressure is totally on — but not just for the athletes on the field (or the spinach artichoke dip we're all going to be digging into). There's just as much hype for the performances at Super Bowl LII as there is for the sports, and one of the stars at the center of that hype is Pink, who will perform the "Star-Spangled Banner" to kick off the big game. But one thing that should help her nerves is the fact that Pink's husband, Carey Hart, is at the Super Bowl to cheer her on.
We always look forward to seeing the celebs who are lucky enough to be front and center at the Super Bowl each year. Of course, we know that Justin Timberlake is a guaranteed appearance this evening, since he'll be slaying the halftime show in swoon-worthy J.T. fashion (I literally cannot wait, and my heart already can't even handle what tricks he has up his sleeve.)
But performing the National Anthem at such a major event is no small task, either, which is why I was so glad to see that Hart is definitely going to be at the stadium to support Pink.
Update: At 2:50 p.m. ET, Hart posted the following photo to his Instagram, showing him sitting with his and Pink's daughter, Willow, in the stands before the Super Bowl.
Earlier: On Sunday afternoon, he posted a photo of his ticket to the game on Instagram, but soon deleted it. (Maybe because he realized that his 712,000 followers didn't need to know exactly where he was sitting...) However, his tweet containing the very telling IG caption is still live.
So yes, Hart is definitely at the Super Bowl and will be front and center to watch Pink crush it when she sings the National Anthem.
And yes, she's going to crush it, because we all know Pink never fails to impress the masses and touch our hearts with her performances. For real though — she's the real MVP. The singer has previously been nominated for 19 Grammy awards, and has won three of them. A week ago, on Sunday, Jan. 28, Pink took to the Grammys stage to perform "Wild Hearts Can't Be Broken." The 39-year-old star dropped the official music video for the song following the awards show. The black and white video stars Pink, along with her daughter, and encourages fans to support and donate to UNICEF.
On UNICEF's website, Pink is quoted saying, "All children should be able to grow up strong and healthy, with the opportunity to reach their full potential."
On Sunday, Pink is sure to leave a mark on our hearts once again when she graces the field to sing at the Super Bowl.
Leading up to Super Bowl Sunday, Pink took to Twitter to say how incredibly hyped she was to be singing on game day — most especially because one of the spotlights would be shining on The Eagles. She wrote,
Ummm. I'm singing the national anthem and the EAGLES ARE PLAYING?!?!?! IS THIS FOR REAL?!?!?!THATS WHASSUP!!!!!!!! Shtjtkd widnamc ckamcnsnzncbx!!!!!!!!!!!!!!!! Wooohooooooooooooioooooooooooooooooooooooooiiiiiiooooooooooo
Fans were just as excited and were quick to show it. Pink's tweet received over 77,000 likes and more than 10,000 retweets. Hallelujah to that, Pink.
Although many of us wish we could be passionately cheering on our team in the stands IRL, we'll take what we can get, and live vicariously through the multiple TV screens at the jam-packed bar. As long as you're with your favorite humans, some dope food, and your beer cup is on refill mode, you're set to get down to business. For everyone like Hart who is celebrating the day at U.S. Bank Stadium, well, we are still incredibly jealous of you.