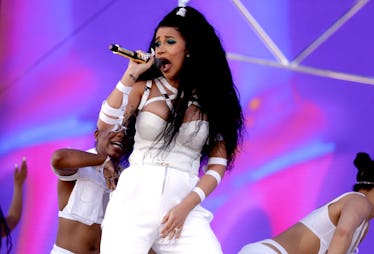 Cardi B's First Appearance Since Giving Birth Was Announced, But It's Not What You Think
Rich Fury/Getty Images Entertainment/Getty Images
We all know that Cardi B is a very busy lady. When she's not killing the rap game, she's caring for her newborn daughter, Kulture Kiari Cephus, who she and Offset welcomed into the world on July 10. And, because of her new mom status, Cardi B has been taking some time before going back to work (as she should!). But with the VMAs quickly approaching, many are wondering whether the "Bodak Yellow" singer will be present or a no-show. So, is Cardi B performing at the 2018 VMAs? She set the record straight once and for all.
The 25-year-old rapper took to her Instagram story on Wednesday, Aug. 15, confirming that she'd be opening for the MTV VMAs on Monday, Aug. 20, to tell her fans that she will, in fact, be making her comeback, but she cleared up what *exactly* that entails.
MTV has also confirmed the news to People magazine and, in a screenshot of a tweet Cardi shared by the MTV Video Music Awards, she captioned the shot, "See you there!"
But the photo that was uploaded to Cardi's Instagram Story was a screenshot from an article from Rolling Stone magazine with a title that read, "Cardi B to open 2018 MTV Video Music Awards," which, in case you didn't catch, says that she'll be "opening," but not performing (???). While I'm not entirely sure of the difference, Cardi B emphasized that fact by writing in her Instagram Story over the screenshot, "I'm just opening I'm not performing!!!":
If someone could tell me the difference between someone opening and performing (a skit, perhaps?), that would be great. Until then, I'm just going to be happy that, at the very least, Cardi B will just simply be in attendance serving looks.
Back in late July, Cardi officially told her fans that she would no longer be joining Bruno Mars on his 24k Magic Tour, which she was set to join in September. It was a bummer for fans to hear the news, but they were supportive of the new mother and her choice.
"As of today I've decided I won't be joining Bruno on tour this Fall," she wrote in a statement that she shared to Twitter. "I thought that after giving birth to my daughter that 6 weeks would be enough time for me to recover mentally and physically. I also thought that I'd be able to bring her with me on tour, but I think I underestimated this whole mommy thing."
She also thanked her fans for their support with her decision, which was undoubtedly not an easy one to make:
Another (very important) person who understood her choice was Bruno Mars himself, who took to Twitter to send Cardi B the sweetest message after news of her cancellation came out.
His statement read,
A Message for Cardi. Most important thing is you and your family's health. I know the fans will understand. You are absolutely doing the right thing. I also know we'll share the stage when the time is right. We love you Cardi and we will play Bodak Yellow every night in your honor. Please give your baby girl a hug from me and a hug on behalf of everyone on The 24k Magic Tour. Love, Bruno.
Can we get an OKURRR for Bruno Mars, please?
Thank you very much, Cardi. We're all beyond excited to watch you perform — er, open — for the MTV VMAs this year.