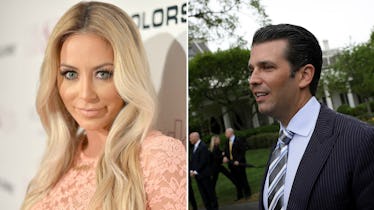 Aubrey O'Day Might Have Written A Song About Donald Trump Jr. & I Just Can't
Charley Gallay/Getty Images Entertainment/Getty Images // Win McNamee/Getty Images News/Getty Images
The eldest Trump offspring Donald Trump Jr. has been in the spotlight following the news that his wife Vanessa Trump had filed for divorce on March 15. At the time that the story broke, nobody knew exactly why the Trumps were calling it quits. But on March 19, more reports about the causes behind the split began emerging, including reports of an alleged affair between Trump Jr. and singer Aubrey O'Day. The reports have me shook, and there are some details that are making me even more fascinated. Like what? It's come to our collective attention that O'Day released a song in 2013 with some very — let's say interesting lyrics. So, is Aubrey O'Day's song "DJT" about Donald Trump Jr. and their alleged fling? So many questions, so little time.
I'll just say, O'Day's single definitely screams "scorned lover" to me. I mean, read these lyrics for yourself. I picked out a couple of standout lines for your reading pleasure.
You want to believe that everything with me was a lie? A fantasy?/ And you want to go back and live in the life that you had have forever?
What made you stop believing in our world? / You know, I think probably the loss of the other world / I'm torn between two worlds both of which I wanted
I have to move on, I need your help / I can't believe that this was all a lie
Elite Daily reached out to representatives for O'Day for comment on the inspiration behind the song and whether it was about Trump Jr., but did not receive a reply by the time of publication.
The initial reports of the affair from Us Weekly on March 19 seemed kind of random, at least to me. But now that I've read the "details" of when and where this happened, consider me invested in the situation. According to that report from Us Weekly, Trump and O'Day met while she was taping the fifth season of Celebrity Apprentice back in 2011, and allegedly had a relationship of sorts from the end of 2011 to March 2012. Elite Daily reached out to representatives of both Trump Jr. and O'Day for comment on the alleged affair, but did not immediately hear back.
A source told the magazine that Trump had lied to O'Day about the state of his marriage, saying,
When it started, they were very serious all of a sudden. He told her it was over with his wife, that they were separated and he didn't love her — all of that stuff … Aubrey fell for him hard. She thought they were going to be together for real.
If you compare the lyrics that O'Day released back in 2013, shortly after the alleged affair is said to have ended, with what this source is saying, the situations actually match up perfectly. Convincing? I'll let you all be the judges.
It's the latest turn in increasingly dramatic reports about the divorce.
Apparently, the pair have been on thin ice for awhile. According to Page Six, Vanessa had been looking for divorce lawyers long before Trump's father, Donald Trump Sr., had won the presidency, but decided to hold off after he was elected to office. The source told Page Six,
She was interviewing divorce lawyers before [Trump's presidency]. No one thought he'd win. He won and she decided to stay until his term is over. But she just couldn't stand it anymore.
So this alleged affair might not be the only reason as to why this marriage is now in shambles — but the fact that the report is now public obviously doesn't help the situation. So much for a clean break.