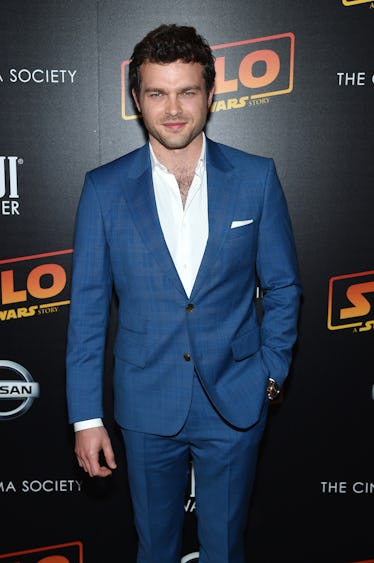 Here's What 'Solo' Fans Should Know About Alden Ehrenreich's Current Love Life
Jamie McCarthy/Getty Images Entertainment/Getty Images
Han Solo is one of the most iconic cinematic characters of all time, so naturally fans are curious about the man portraying the younger version of the Star Wars hero. Solo: A Star Wars Story just hit theaters, and the its titular star is already on his way to becoming an A-lister. So, is Alden Ehrenreich single? The buzzed-about actor remains relatively private when it comes to his personal life.
Ehrenreich isn't exactly new to the new to the scene, although he might just be earning bonafide household name status now due to his Star Wars affiliation. The 28-year-old has over a dozens of credits to his name — he got his big break back in 2009 in Francis Ford Coppola's Tetro and has been working ever since. You may recognize him from 2013's Beautiful Creatures, 2016's Hail, Caesar!, or 2018's Rules Don't Apply. He was actually discovered at the age of 14 by none other than Steven Spielberg at a bat mitzvah reception of all places, when the director caught a video he made. In 2016, Alden impressively beat out an esteemed roster of actors on the shortlist to play Han Solo — a role originally made famous by Harrison Ford. Miles Teller, Ansel Elgort, Taron Egerton, and Emory Cohen all reportedly auditioned for the coveted part.
Now that Solo is finally out in theaters, Alden's star is seriously on the rise and the world is curious about his world off screen.
"It's a good question," Alden answered, when asked by The Independent if there's a "special someone" in his life. "Probably Chewbacca!"
Now that's the proper way to skirt the truth. Just bring up Chewy and everything else will be forgotten.
Alden keeps pretty quiet about his social and love life. He has no official social media accounts, so it's not like he's sharing his whereabouts and happenings with fans on a regular basis. There have been rumors about a possible relationship with Kelsey McNamee (an actress with credits such as Water for Elephants and Shut Up and Drive), although nothing has been confirmed.
Ehrenreich dished to ODE about his lovey-dovey endeavors while promoting Beautiful Creatures — but that was over five years ago. He recalled the most romantic thing he ever did, revealing, "My first girlfriend and I went to the top of a billboard and kissed on top of a billboard ... on the Sunset Strip."
Aww, young love.
Past billboard adventures aside, Alden has a lot going on professionally at the very moment. He divulged to Esquire in April that he's signed on for "three" Star Wars films in total. Solo hit theaters on May 24 and is unfortunately off to an underwhelming box office start, but that may have a little something to do with the release date.
It will be interesting to see what types of projects Alden takes on next. He spoke to Esquire about the value of working with and learning from actors he looks up to — a concept he got from Warren Beatty (via Jodie Foster):
One of the things I remember Warren Beatty saying is that he had a conversation with Jodie Foster once about what the actual value of fame is. And she said this thing that he really liked, and that I really liked, which is that the main value for her was access. For me, to get to be around these people whose work I've admired, and ask them really specific questions about that work, is kind of amazing.
No matter what's going on in his guarded personal life, Alden's career is probably not slowing down any time soon.