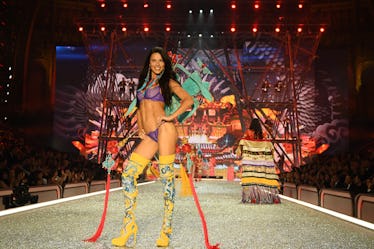 Adriana Lima Is Dating This Turkish Writer & Their Relationship Is So, So Cute
Dimitrios Kambouris/Getty Images Entertainment/Getty Images
It's the most wonderful time of the year, and I'm not talking about the holidays... it's almost time for the annual Victoria's Secret Fashion Show. It's become the must-watch event since the first show was broadcasted on TV in 2001 and this year isn't likely to disappoint either. With a stellar lineup of runway models, there are so many questions... show of hands if you're wondering "Is Adriana Lima single?"
It turns out, Lima is not single and has been dating Turkish writer Metin Hara since they met in June. At the time, they each took to Instagram to write about meeting each other, with Hara sharing a photo of the two of them together, writing: "Happy to meet such a humble soul. Planning on inspiring projects. Stay wild, stay free."
Lima posted the same picture, writing: "Happy to meet my new enlightened friend."
So, maybe they were in the friendzone initially, but it didn't take long for things to heat up for Hara and Lima, as he confirmed their relationship, telling the Daily Sabah in July 2017: "We realized that we have feelings for each other. Both of us are still getting to know one another."
Lima and Hara were spotted together on a yacht in Bodrum, Turkey in July, and were seen kissing and holding hands the evening before, according to People.com.
Earlier this week, Lima posted that first photo they shared on social media, celebrating their fifth month together, writing: "Exactly today 5 months ago I met/chose love. The beginning of a new beginning."
One of Lima's famous exes is New England Patriots player Julian Edelman. The pair broke up in Feb. 2017 after dating for seven months. Afterward, Lima started dating New York Mets player Matt Harvey, which created some controversy. Lima was rumored to have been the reason that Harvey got suspended when he failed to show up for a game. The suspension happened days after Lima was seen with Edelman at Rihanna's MET Gala party.
Lima addressed a hateful fan that wrote on Instagram: "You ruined the Mets season go away" by responding: "No I did not. There is always two sides of the coin. Only 1 has been heard."
Of the incident, Harvey would only say at a press conference: "I'm extremely embarrassed. It's completely my fault. I put myself in a bad place to be ready for showing up for a ballgame, and that is my responsibility. I take full blame for that."
While he didn't mention Lima, he did note that a late night of drinking "past curfew" on a Friday night followed by a game of golf Saturday morning prevented him from playing. He failed to follow the protocol for properly notifying the team of his absence.
Lima was engaged to NBA player Marko Jaric in June 2008, after nine months of dating, and they got married in 2009. The couple has two daughters together. They separated after five years of marriage in 2014, with their divorce finalized in March 2016.
Lima has been a Victoria's Secret Angel since 1999 and was named "the most valuable Victoria's Secret Angel" in 2017, as she's their longest-running model. Kind of the MVP of VS. Cool. Cool. She only missed one year on the fashion show catwalk, in 2009, when she was pregnant. Fun side note: Lima was just 18 years old when she walked the Victoria's Secret runway for the first time. She's worn their iconic Fantasy Bra in 2008, 2010, and 2014.
And it sounds like she's happily in love. So, life is good for Lima.
Check out the entire Gen Why series and other videos on Facebook and the Bustle app across Apple TV, Roku, and Amazon Fire TV.