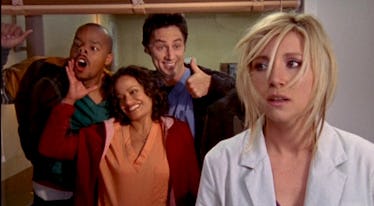 Zach Braff Says 'Scrubs' Might Be Revived For A TV Movie, So Get Ready To Scream "Eagle"
NBC
Raise an appletini, Scrubs fans, because it sounds like the doors to Sacred Heart hospital may be opening once again! As anyone who has even glanced at a television in the past couple years knows, we are in the thick of reboot mania right now, and the next beloved sitcom that may rise again is Scrubs. Despite network changes and shifts in the main cast, the medical sitcom built a fervent cult following over its nine seasons, and now Zach Braff is saying that the show may be returning. So, is a Scrubs reboot really happening? Braff is giving fans hope, although he says the show won't come back in the typical reboot fashion.
In a new interview with Variety pegged to his new ABC comedy Alex, Inc., Zach Braff shared that he and Scrubs showrunner Bill Lawrence are talking about bringing Scrubs back as a TV movie. Braff said that the idea of a two-hour movie appeals to him and probably the rest of the cast as well more than reviving Scrubs as a full-season TV series since it would give them all more time to focus on other projects and there would be less contracts involved. He cited the USA detective comedy Psych's revival as an example of what he would like to do with Scrubs — last year, Psych returned after its 2014 series finale to air a two-hour TV movie with the original cast. Check out Braff's full statement on a possible Scrubs revival below:
We might do a TV movie — we daydream about that. We're all doing so many different things that we love, so the idea of going back and signing a long contract doing years and years of Scrubs is not on our minds. What's more realistic is [showrunner] Bill [Lawrence] and I are very close and we often laugh about what would it look like to do a two-hour movie — like what Psych did.
So, Scrubs fans probably won't be getting a full rebooted TV series of the beloved medical sitcom, but it sounds like a TV movie reuniting the original cast is a definite possibility!
Thankfully, fans of Scrubs are already very well acquainted with surprises and sudden changes. The show gained a large and loyal fanbase in the early to mid-2000s with its first six seasons on NBC, but things began getting shaky after that. The WGA writers' strike in 2007 cut the show's seventh season short, and spurred rumors that the show was probably coming to an end.
NBC canceled the show, but then ABC surprised fans by picking up Scrubs for an eighth season. When ABC renewed the show for Season 9, Scrubs shifted focus away from the original main cast to instead focus on new students at the hospital, played by Dave Franco, Eliza Coupe, Kerry Bishé, and Michael Mosley. Unfortunately, the new main cast did not seem to excite viewers as much as the originals, and Scrubs was finally canceled for good after airing its series finale in 2010.
Although it has been off the air for over eight years now, Scrubs remains a fan-favorite and iconic sitcom. Especially since its final season was not so well-received, fans will probably welcome a TV movie revival with open arms, since it will give the series a chance to end on a stronger note with all of its original cast, instead of characters that were only recently introduced in the show's universe. Now we will just have to wait and keep hoping that a Scrubs movie comes together — Psych already proved it can be done, after all.