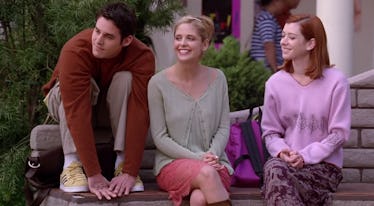 A 'Buffy The Vampire Slayer' Reboot May Happen & Fans Can't Handle It
WB
Buffy Summers may have risen from the dead (twice), but the TV series that shares her name has been lying six feet under for about 15 years now. And TV execs think it is about time Buffy rose from its grave. The chair of Fox TV group, the studio with the rights to Buffy the Vampire Slayer, just stated that he is very interested in rebooted the seminal supernatural teen drama, but he has one condition. So now everyone is asking: Is a Buffy the Vampire Slayer revival really happening or not? Let's break down everything we know.
On Tuesday morning, Fox TV group chair Gary Newman revealed that he believes Buffy the Vampire Slayer is the show Fox owns the rights to that is most ripe for a reboot or revival. He also said that a Buffy reboot is something the Fox execs talk about very often. That sounds great, but don't get too excited — Newman assured fans that the studio would not go through with a new Buffy series unless original creator Joss Whedon was on board as well. Speaking about a possible Buffy revival, Newman told a crowd at the INTV conference:
It's something we talk about frequently, and Joss Whedon is really one of the greatest creators we ever worked with. When Joss decides it's time, we'll do it. And until Joss decides it's time, it won't happen.
So basically, the studio is all ready to get a reboot going, but it is not going to happen without Joss Whedon. That means the decision falls to Whedon over whether he would be down to bring Buffy back or not.
Joss Whedon has actually spoken about a possible Buffy the Vampire Slayer reboot last year, when the showrunner and cast were celebrating the show's 20th anniversary. Whedon made it pretty clear in an interview with the Hollywood Reporter that he is not a huge fan of the current reboot-happy trend in television, although he admitted that he has not ruled a reboot of one of his shows out:
You bring something back, and even if it's exactly as good as it was, the experience can't be ... Luckily most of my actors still look wonderful, but I'm not worried about them being creaky. I'm more worried about me being creaky as a storyteller. You don't want that feeling that you should have left before the encore. I don't rule it out, but I fear that.
Series star Sarah Michelle Gellar also weighed in on the possibility of a Buffy reboot around the time of the 20th anniversary last year, echoing Joss Whedon's reservations while also not totally ruling it out. Gellar said that she thought one of the things that made the show so powerful was that it was set during the characters' formative years in high school and college, noting that it may not translate as well into adulthood if a reboot brings the original cast back together as adults.
It is unclear whether the Fox execs are talking "frequently" about a reboot of Buffy the Vampire Slayer that continues to follow the original characters into adulthood, or a completely recast show still set within a high school that is based on the central story premise of Buffy. What seems likely to me is that the studios are probably pulling for the latter (since dark teen series are so big right new), but Joss Whedon is probably more interested in the former (since he famously loves to work with his specific pen of actors). If that is indeed the case, then I wouldn't get my hopes up for this Buffy reboot to get off the ground. Maybe we can all shift our focus to bringing Firefly back instead?