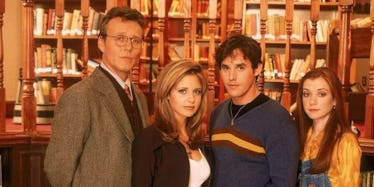 The 'Buffy' Cast Reunited For 20th Anniversary And The Pics Will Give You Life
WB
She saved the world. A lot. And now, she and her Scooby gang are back again to remind us of all the supernatural adventures the we watched them go through.
The cast of "Buffy the Vampire Slayer" is celebrating the 20th anniversary of their beloved show by getting together and looking back on the impact that the vampire drama has had on the world. Oh, and of course, they took a few amazing reunion pictures while they were at it!
Like this beautifully dark graveyard shot:
I'm starting to think everyone on this cast is actually a vampire because nobody seems to have aged at all in the 14 years since "Buffy the Vampire Slayer" ended. They all still look incredible!
Between photos, the cast all sat down together to discuss how the show has affected them, and why they think "Buffy" became the pop culture phenomenon that it did in a video for Entertainment Weekly. Series star Sarah Michelle Gellar summed up why the show became such an iconic and beloved series:
It's the ultimate metaphor: horrors of adolescence manifesting through these actual monsters. It's the hardest time of life.
Though we'll have to wait until the new issue of Entertainment Weekly hits the stands to get the full story on the reunion, the teaser video is already giving us more than enough to freak out about. I mean, the gang's all back guys. Just look at them!
There's Tara, Willow and Oz all intwined together, giving me total throuple vibes, which honestly, I am very here for!
And can we talk about how Cordelia looks just as incredible as always!? Like, how does Charisma Carpenter still look like she has to pop by her locker to touch up her lipstick before jetting off to third period!?
But 100 percent, without a doubt my favorite moment of the reunion teaser is Anya conquering her crippling fear of bunnies, as we can see Emma Caulfield triumphantly lifting up a white rabbit.
Unfortunately, there is one core member of the Scooby gang that is conspicuously absent from the shoot.
As any "Buffy" fan will immediately notice, Anthony Stewart Head, who played Buffy's Watcher/father figure Giles, is nowhere to be seen in the reunion. Sarah Michelle Gellar told a fan that Head couldn't make the shoot, as he was involved in a London-based play at the time.
Though Giles' absence is sorely felt, it's hard to get upset when the rest of the show's cast gave us so many reunion photos to obsess over!
There's content for Spuffy shippers...
And, of course, there's more than enough Buffy/Angel shots to keep Bangel fans going for a while.
With "Buffy" leaving Netflix in just a few days, this reunion photoshoot couldn't have come and lifted our spirits at a better time!
Check out the full reunion teaser below: