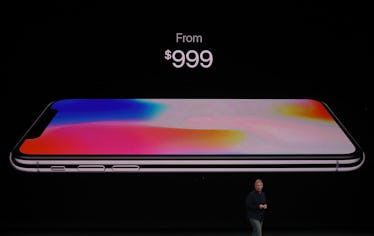 You're Really Not Going To Want To Break Your iPhone X Screen Based On Repair Costs
Justin Sullivan/Getty Images News/Getty Images
If you've been online at all on Friday, you probably noticed that people are talking all things iPhone X. Well, that's because Apple began accepting preorders for the highly-anticipated phone on Friday, Oct. 27. If you're thinking about getting in on the iPhone X game, it's important to think about the costs beyond the initial $999 for the device. Cracking your iPhone screen is practically inevitable (you're only human!), but you'll want to be extra careful with your new phone once you learn that iPhone X screen repairs could be costly.
According to The Verge, a screen repair without a warranty on the sleek, new iPhone X will run you $279. For reference, The Verge reports that an iPhone 8 screen repair only costs $169 (making the iPhone X screen-repair price about 65 percent higher). There is a way to sidestep this sticker shock, though. If you think there's a chance that you might drop your beloved iPhone X while you're, say, snapping pics of your bomb AF pumpkin pies, you might want to invest in AppleCare +.
AppleCare +, according to the Apple website, "extends your coverage to two years from the original purchase date of your iPhone." You'll be able to purchase it for $199 for the iPhone X.
It might seem like a good chunk of change at the outset, but it will be worth it in the end. According to The Verge, you can bring your shattered iPhone X screen back to life for the low, low price of $29 when you're covered under the AppleCare + warranty. You'll be covered for "up to two incidents of accidental damage coverage," according to the Apple website. The Verge also reports that you would be able to fully replace your iPhone X screen twice (if needed) under the AppleCare + warranty for a total of $257, which is much less than the one-time fee of $279 for an out-of-warranty phone.
OK, I know I just threw a lot of numbers at you, but it's really not all that complicated. One of the reasons that you're probably so excited to get the new iPhone X is because of the OLED panel that is replacing the LCD panel used on the current versions of iPhones. According to Business Insider, OLED technology can "produce a more vivid, realistic picture."
Well, this new OLED panel is being produce for Apple by Samsung, and, according to The Verge, the fact that Samsung is Apple's only supplier of these screens can add to their cost. So, it really shouldn't be too surprising to hear that the screen repair costs on an out-of-warranty iPhone X will be higher than you're used to seeing. It's not that you should be excited to hear about the rising costs, but it makes sense.
Once again, though, you don't have to hide your iPhone X away in a safe to make sure that nothing harms it. I mean, you're buying it because it's the most advanced and upgraded iPhone to date, so you should feel free to use it whenever and wherever. If you purchase the AppleCare + warranty at the outset, you'll have the comfort of knowing that a drop here or there isn't going to be the end of the world.
So, once your iPhone X is finally delivered to your front door, get it out right away and start snapping pics with the new TrueDepth camera or testing out the new Face ID feature. If you get overly excited while setting up your new Animojis and drop your iPhone X screen down (gasp!), you can use that trusty AppleCare + to make sure you don't go bankrupt because of clumsiness. Anyway, it's almost Black Friday, so wait until then to make your bank account hate you.
Check out the entire Gen Why series and other videos on Facebook and the Bustle app across Apple TV, Roku, and Amazon Fire TV.