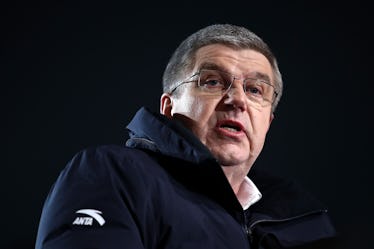 The Olympics President May Have Subtly Shaded Russia During The Opening Ceremony
Clive Mason/Getty Images Sport/Getty Images
On Friday, Feb. 9, the opening ceremony was held to formally begin the 2018 PyeongChang Winter Olympics. The event in South Korea included the usual elements of an opening ceremony: athletes paraded, singers sang, and the International Olympic Committee (IOC) president gave a speech. This time around, though, there was one country officially missing, as Russia was banned from the games due to a doping scandal. In light of that news, IOC president Thomas Bach referenced Russia in his speech and Twitter was pretty shocked to hear him say it.
"You can only really enjoy your Olympic performance if you respect the rules, and stay clean," Bach said in his speech. "Only then will your life-long memories be the memories of a true and worthy Olympian."
WHEW! Seriously, that's a rough line to take in — and it seems like people in the stadium weren't entirely sure how to take it in, either. Although he didn't mention the country by name, it was decently clear that Bach was referring to Russia with that line. In case you missed it, Russia was banned from the PyeongChang Games on Dec. 5. This came following an IOC investigation into a state-backed doping scandal that took place during the 2014 Winter Olympics in Sochi, Russia. Ultimately, the IOC determined there was enough evidence to ban them from these games and strip athletes who were found to have doped of the medals they won in 2014.
Bach's comment seriously shook viewers.
Bach was the one who made the initial December announcement that Russia was being banned from the PyeongChang Games.
"This was an unprecedented attack on the integrity of the Olympic Games and sport. The IOC EB, after following due process, has issued proportional sanctions for this systemic manipulation while protecting the clean athletes. This should draw a line under this damaging episode and serve as a catalyst for a more effective anti-doping system," Bach said in a statement in December.
Although the country as a whole was banned, Russian athletes are still able to compete in PyeongChang this month, provided that they were not found to have doped. There are a decent amount of Russian athletes in South Korea to compete, although right before the competition began, 45 Russian athletes lost their appeals to compete in these games, according to Sports Illustrated.
For the athletes from Russia who are allowed to compete, they are not competing under the Russian flag, and should they win any medals, the Russian national anthem will not be played during the medal ceremony. During the team competition in figure skating, which began on Feb. 8, while other competitors sat under their respective flags, the athletes from Russia sat under the Olympic rings.
Technically, they're not even "Russian athletes" at these games. Instead, they're "Olympic Athletes from Russia" (OAR). The OARs are also not wearing nationally themed clothes. These athletes entered the opening ceremony on Friday wearing neutral grey and white clothing. They marched under the neutral Olympic flag, which was carried by a volunteer from the PyeongChang Organizing Committee, according to The Guardian.
So while they are still able to compete, it's not exactly under the most dignified circumstances, and Bach's comment during his opening ceremony speech certainly did not make things more comfortable for those athletes.
Bach's sympathies, however, seem to lie with the athletes from other countries who may have been affected by the doping scandal. "As an athlete myself, I feel very sorry for all the clean athletes from all NOCs [national Olympic committees] who are suffering from this manipulation. Working with the IOC Athletes' Commission, we will now look for opportunities to make up for the moments they have missed on the finish line or on the podium," Bach said in December while announcing the ban.