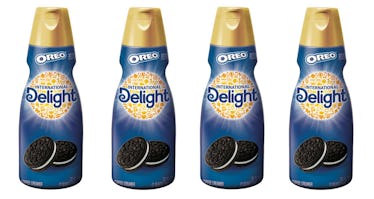 Oreo-Flavored Coffee Creamer Is Coming & It'll Get You Excited For Early Mornings
International Delight
Mornings and coffee go hand-in-hand, and the only way to make the early dawn hours more complete is to add a little cookie to it. International Delight is blessing us all with its Oreo-flavored coffee creamer, which is sure to get your mornings started off on the right foot. Even if you're a black coffee drinker (like me), adding a little bit of Oreo cookie flavor to any brew is a surefire way to have a great day. For those of us who have a hard time in the first part of the day, International Delight Oreo Coffee Creamer will get you excited for early mornings, too.
Oreos are pretty popular, so it comes as no surprise that America's favorite cookie would team up with International Delight for a creamer made in baker's heaven. The 32-ounce bottle of International Delight Oreo Coffee Creamer will be available in grocery stores across the United States on Wednesday, July 18. If you're not sure where to buy International Delight products, stores such as Walmart and Target often stock the brand.
The new creamer flavor won't cost you much more than a regular cup of coffee, either. On average, Americans spend $2.70 on a basic cup of black coffee, according to a U.S. News & World Report from 2015. International Delight Oreo coffee creamer has a retail price of $3.29 per 32-ounce bottle. So, if you buy your own coffee beans or bottled brew, International Delight's Oreo Coffee Creamer is the most delicious (and cost-effective) way to enjoy your caffeinated beverage.
Coffee — iced or hot — is a staple for many American households. It definitely is in mine. In a 2017 survey conducted by The National Coffee Association, the National Coffee Drinking Trends report found of more than 3,000 people who participated in an online poll, 62 percent reported drinking coffee on a daily basis, according to Reuters. I drink at least one cup of coffee a day. Is there a better way to flavor your cup o' joe than with your favorite chocolate sandwich cookies? I think not. I've been known to dunk a cookie or two in my coffee, so adding Oreo creamer to my coffee is just an all-around appetizing pairing.
International Delight's Oreo coffee creamer isn't just for your morning routine; it can be the perfect afternoon pick-me-up when you're running on empty at work. If you've got an office kitchen, I suggest keeping a bottle of this in your work refrigerator. Just be sure to write your name really big on the front of the bottle, or else your coworkers might drink this before you get to your second cup.
International Delight is known for their interesting and unique coffee creamer flavors. In addition to Oreo-flavored creamer, the coffee mixer company also produces a Reese's Peanut Butter Cup creamer. They are also known for their Oreo Iced Coffee, which sounds like the perfect way to get my caffeine and a taste of sweet on those hot summer days. You could really go all out and mix International Delight's Oreo coffee creamer into their Oreo Iced Coffee — just don't go pointing the finger at me if you get a belly ache.
This is the first time that International Delight and Oreo have partnered up to bring you a chocolate cookie creamer for your coffee. As an Oreo lover, I'm pretty jazzed about this collaboration. I've already got Wednesday, July 18, noted on my calendar, so I can run out and buy a bottle when it hits store shelves. International Delight's Oreo coffee creamer is sure to go quickly, and I want to make sure my fridge is stocked for the long haul.