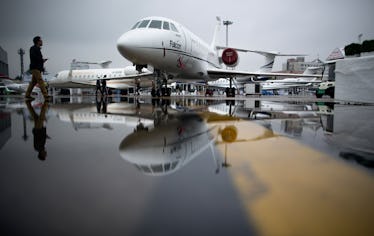 Turns Out Those Instagrams Of Private Jets Aren't Always What You Think
JOHANNES EISELE/AFP/Getty Images
If you've ever watched an episode of Keeping Up With The Kardashians, then you've definitely seen the famous family flying in high style. You probably thought that was a luxury reserved exclusively for the rich and famous. As it turns out, posting an Instagram in a private jet is not as far out of reach as you might have thought; you just have to know where to go to take them.
According to The Independent, all you need to become the envy of your Instagram followers is a quick trip to a Moscow-based photography studio. Private Jet Studio is where you can go when you want to live that luxurious life and post the evidence to Instagram. It will cost you, though, and the catch is that you don't actually get to fly in the Gulfstream 650 where you'll be snapping your pics.
You can rent out a grounded private plane for two hours for between 14,000 and 25,000 roubles (between $244 and $436 U.S. dollars), according the the Private Jet Studio website. According to The Independent, if you need a photographer to capture these moments of limited luxury, it'll cost you 3,000 roubles more ($52 USD). If you really want to give yourself that Kim K feeling, you can rent out the private plane for up to 24 hours (it will still be grounded), but the fee for that rental varies by agreement, according to the company's website.
If you're thinking that you won't be able to fool your followers into believing that you're actually flying private, then you'll be happy to know that the photos are set up in a way that truly makes it look like you are living the luxurious private jet lifestyle. You'll be the only one to know that the plane isn't likely to go wheels-up any time soon.
The Independent reports that those who use Private Jet Studio vary their aesthetics from chill and relaxed to indulgent and opulent, complete with sipping champagne. So, you can make it look like you do this all the time and you're not even fazed by how cool private jets are, or you can live it up and immediately give all of your Instagram followers FOMO by sipping champagne in the sky (without having to use your Southwest "free drink" voucher).
The photos really do look like the passengers are getting ready to take off to some wonderful destination without the pitfalls of flying commercial, like seat assignments and dreadful airplane food.
Unfortunately, if you're not based in Russia, you'll have to make your way to Moscow just to take advantage of the service. If you're looking for a good reason to book that trip, though, Private Jet Studio posts some examples on their website to show how you can pull off the rouse seamlessly.
Fur always equals fancy, right?
All she needs to show are her heels, and I believe that she's never flown commercial a day in her life.
Oh, Fido can fly in high style, too.
In this day and age where everyone is posting their seemingly perfect and fabulous lives to Instagram, it's not surprising that a service like this would come along. Honestly, though, unless you're an "influencer" (or most of your followers don't know you personally), you probably won't get away with it. I mean, your squad of besties is going to know that you're not rocking Louboutins in a private jet on the regular.
On the flip side, it could be a fun day or night out with your pals. Get all dressed up and live the fab life for a couple of hours, and then get back to reality by hitting up Taco Bell for some post-photoshoot eats. You'll forget all about private jets once you bite into a Crunchwrap Supreme. And hey, you'll still have all the pics, so you can relive that moment of luxury any time you want.
Check out the entire Gen Why series and other videos on Facebook and the Bustle app across Apple TV, Roku, and Amazon Fire TV.