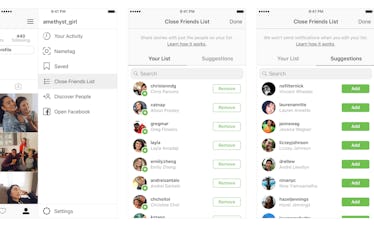 Instagram's New Close Friends Feature Will Make Stories So Much More Personal
Courtesy of Instagram
Instagram Stories are a ton of fun, and I post them on the reg. But sometimes, I wish they could be a little more intimate. I always thought that it'd be nice to share certain Stories with only my close friends, because not everyone is going to understand our inside jokes. Thankfully, Instagram came up with a new way to do exactly that. More specifically, Instagram's new Close Friends feature on Stories lets users create a list of their best pals and share Stories with them (and only them). In other words, you'll be able to pick and choose who you share certain Stories with, and your closest friends will have a front row seat.
Instagram's new Close Friends feature — which will start rolling out globally for iPhone and Android users on Nov. 30 — will be super easy to find if you keep your phone updated. To check if you have the feature, head to your profile. Then, hit the side menu button in the upper righthand corner of your screen. If you have access to Close Friends, you'll see it listed as an option that says "Close Friends List." After you see that option, click on it and start curating your list. Keep in mind that you're the only one who can see your Close Friends list, and that people can't request to be added to your list. It's that exclusive.
While you're making your list of Close Friends, Instagram will provide you with a handful of suggestions. When you see your closest buds and want to add them, simply hit "Add." If you want to remove someone from the list (ouch), all you have to do is hit "Remove." It's that simple. However, if you remove them, there's a chance that they might find out.
How is that possible, you ask? Well, according to Instagram, you'll be able to tell if you've been added to a list. Apparently, if your BFF adds you, you'll see a green badge on his or her Stories. Plus, you'll see a green ring around their profile picture while you're scrolling through the Stories tray. So if you once saw a green badge on someone's Stories and stopped seeing it entirely, there's a slight chance you were removed. There's also a chance that they took a break from the Close Friends feature entirely. Either way, try not to overthink it.
Plus, you have the power to create your own Close Friends list — so why not focus on that, instead? Once you've curated a list of your best pals, you can start uploading Stories. In order to do so, open your camera and start creating a Story like you normally would. After you finish your Story, you can choose whether or not you want to share it with all of your followers or just your Close Friends list.
For more details about how the process looks, check out the video below:
Now that the Close Friends feature is here, you can share Stories without worrying about who sees them. Sure, you were always able to hide your Story from certain users — but that's a lot of work. Thanks to Close Friends, you'll have a go-to spot where you can share personal memories with the ones you love.