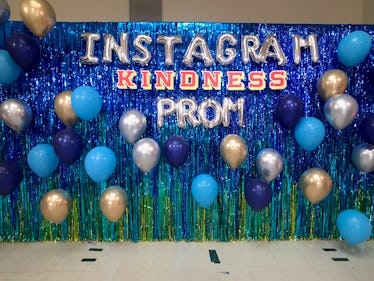 Instagram Hosted A "Kindness Prom" To Celebrate Its Latest Anti-Bullying Feature
Instagram
Teens from around the country gathered together to support and promote Instagram's latest efforts to prevent bullying within the app. Instagram hosted its first ever "Kindness Prom" on Saturday, May 5 with hundreds of well-known youth social media influencers and celebrities in attendance. Instagram's "Kindness Prom" honored its new bullying filter that hides hectoring and harmful comments — and needless to say, both the event and new feature are well-received by the social media community.
The "Kindness Prom" took place in Venice, California, where hundreds of teens danced the night away in a show of support against anti-bullying. Instead of traditional formal prom dinner, there was a feast of burgers from the California fast food start-up In-N-Out Burger, along with a giant anti-bullying balloon arch in front of the main stage that read "Bully Free Zone." The special night also included a surprise performance from three-time Grammy nominee Charlie Puth, according to ABC News' Good Morning America.
Teen influencers like Daniella Perkins of Nickelodeon's "Knight Squad," YouTube stars Alan and Alex Stokes, actor Jaheem Toombs, and others were selected to attend the event because they inspire "their peers by helping kindness, acceptance and support grow on Instagram and in the world," Kevin Systrom, Instagram Co-Founder & CEO, said in a blog on the site.
Of course, no prom (especially one thrown by Instagram) would be complete without a photo backdrop wall. The social media app delivered with blue and green foil fringe curtains, and an array of blue and silver balloons with the message "Instagram Kindness Prom" displayed in the middle.
Instagram says they have a responsibility to keep the community safe and make sure users are having a positive experience when using the photo and video sharing app. The "Kindness Prom" was a celebratory kickoff of sorts in conjunction with the launch of the app's anti-bullying feature that was announced on Tuesday, May 1.
Instagram is making it known that their app is no place for bullying. The newest feature is set up to automatically filter out harmful and hurtful comments about a user's appearance, character, well-being or health, according to Instagram. The goal is for users to feel more comfortable while using the app and to give them a safe space to freely express themselves. Think of the feature as a giant safety net against bullies. The anti-bullying function is available for users around the world and can be turned on or off in the Comments Controls section of the app. To find this, open the "Settings" in your app. Navigate to "Privacy and Security," and click "Comments." If a problem persists with a user, the filter will automatically let Instagram know about the issue so they can further address it.
In June 2017, Instagram rolled out an feature that blocks offensive comments in your feed from other users, but that was not enough to keep the internet trolls at bay. In 2017, Ditch the Label, a British non-profit anti-bullying group, surveyed over 10,000 teens across the pond and 17 percent said they have been cyber bullied at one point or another. Of those who responded, 42 percent of Instagram users said they were bullied on the social app. The app's zero-tolerance bullying policy lead them to take their kindness initiative one step further with the development of filtering out harmful and hateful bullying comments. The addition is a welcomed change and it seems that users of the photo and video sharing app are more than pleased.
To get the latest update that filters out bullying comments, head over to the iOS or Google Play app store and download the latest version.