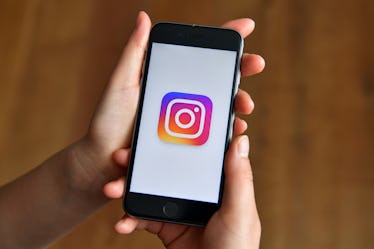 Instagram Is Testing A Feature That'll Make It So Much Easier To Comment
Carl Court/Getty Images News/Getty Images
You know and love Instagram for its ability to help you filter and post awesome photos. I'm no stranger to spending (wasting?) far too much time scrolling through and doling out likes to every deserving post (basically any and all dogs). However, when it comes to adding to the conversation, I don't comment nearly as much. Well, it turns out that the photo app is trying to change that stat, and Instagram's "Add a comment" button is going to make chiming in on your favorite photos so much easier.
Given that no Instagram post is really complete without some enticing text, you're probably pretty good at coming up with witty captions and killer hashtags by now. Why not take your talents to the comments section? Instagram must have had a similar thought, because the app has been secretly testing a new feature (that is now officially rolled out in an update) that will make it so much more convenient to give props to worthy posts with more than than the mere double-tap.
The new "Add a comment" button appears on a post when you look at it for at least five seconds. Once you pass the five-second threshold, the option to add a comment will magically appear at the bottom, so you can easily add your "two cents" to every post.
Now you can easily add your expert meme opinions with the "Add a comment" feature right at the bottom.
The update only works in your homepage feed, according to a spokesperson for Instagram. So if you are scrolling through an individual's feed, you'll still have to comment the old-fashioned way by clicking on the speech bubble. Instagram's reasoning behind only rolling out the "Add a comment" feature exclusively in the homepage makes a lot of sense, though. A spokesperson for Instagram tells Elite Daily that they want to make it "fast and easy" for the user to comment on someone's photo without having to leave the feed on the homepage.
The convenience of commenting without having to leave the homepage is most definitely a much-needed upgrade. Very little is more frustrating than being forced to leave your scrolling point on the Instagram homepage (to comment with a million fire emojis on your bestie's new haircut, of course) only to come back to your homepage and find that you've lost your spot and have to start all over again. OK, having to be an actual productive human is more annoying, but interruptions to your preferred mode of procrastination are definitely not a fun time.
After playing around with the feature (and becoming so excited when the "Add a comment" feature popped up like magic), it appears that the feature isn't available for Sponsored posts, either — so you can focus on sending your comment love to the accounts you choose to follow.
This news comes on the heels of some other exciting Instagram news. The app announced on Tuesday, Dec. 12 that you are now able to follow hashtags on Instagram. That's right: If you want to continuously feed your obsession with adorable dogs, you can just follow #puppies or #puppiesofinstagram, and then your homepage feed will be flooded with all the adorable doggos you can handle.
When your canine hashtag follows are paired with this latest "Add a comment" update, you may never encounter a post without a furry friend again — which sounds amazing, TBH. So, if you need me, you can find me on Instagram updating all of my follows and commenting on all the pups.
Check out the entire Gen Why series and other videos on Facebook and the Bustle app across Apple TV, Roku, and Amazon Fire TV.