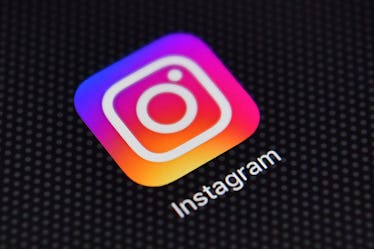 Here's How You Can Get Instagram Notifications On Google Chrome
Carl Court/Getty Images News/Getty Images
Instagram is changing the way you receive notifications. The social media app company is reportedly releasing a new type of alert system that will tell you when you have a new follower, likes, or someone leaves a comment on one of your posts. The alerts aren't just for your phone anymore because Instagram notifications are coming to your desktop browser. Now you can stay up-to-date on your latest Instagram news even when you don't have your phone on you.
The latest expansion of the Instagram platform is compatible with Google's Chrome Browser, according to AndroidPolice.com who was the first to report the groundbreaking news. Elite Daily reached out to Instagram for further information about the update but did not hear back at the time of publication. It was later reported by The Verge that Instagram notifications are also supposed to be available on Safari and Firefox desktop browsers, too. The new notification system is also available on Instagram Lite. This app takes up less space on your mobile device while still offering all of the same features you know and love.
It is very easy to turn on Instagram notifications for your desktop browser. All you have to do is navigate to the Instagram website in the search bar of your internet browser. When it loads, log in to your Instagram account with the same credentials you use to access the app on your mobile device. Once you are in, a message will pop up on the computer screen that asks if you'd like to turn on notifications or not. Make sure to select "Turn On" to get alerted when you have a new follower, and get new likes or comments.
I haven't seen any big, flashy notifications pop up on my computer screen since turning the web browser notifications on. I'm only able to see notifications when I refresh Instagram in my Chrome browser. The notifications in Chrome look very similar in appearance to how those that appear in the Instagram app. Perhaps that's coming, but right now I still have to be logged in and viewing the Instagram web page in my browser to be alerted of notifications.
The new feature is currently being rolled out to Chrome users, according to Tech Radar. Elite Daily reached out to Instagram for further information but did not hear back at the time of publication. If you don't have it just yet, sit tight. These types things usually take some time to reach everyone. Although Instagram has long offered browser support for you to leaf through photos and videos, you have not always been able to check your notifications from the web. Of course, Instagram still looks (and works) best when you use the app itself. Although, it is nice to have the option of being able to check your notifications from your computer.
You still can't upload photos and video to Instagram.com using a web browser, but there are many other things you can do on your desktop browser just as you would in the Instagram app. This includes watching Stories, viewing photos and videos, liking posts, as well as commenting on them, too. You can also follow and unfollow accounts, save posts, copy links, and embed posts directly from the Instagram website in your desktop browser.
I'm hoping that someday I'll be able to upload photos and video to Instagram using my desktop browser. The Instagram app will always be near and dear to my heart, but it is exciting to see the social media company bring new features to internet browsers.