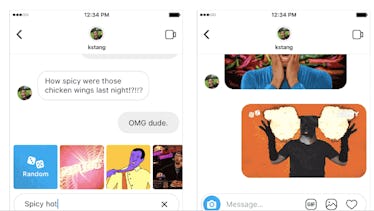 Instagram's Latest Update Gives You A Whole New Way To Slide Into Someone's DMs
I don't know about you, but ever since GIFs have become an acceptable form of communication, I find myself choosing the animated videos over actual words more often than not. When Instagram first introduced GIF stickers in IG Stories in January 2018, I thought nothing could ever top it. Well, I am glad to say I was wrong, because Instagram Direct's new GIF feature is about to make sliding into those DMs so much more interesting.
On Thursday, Sept. 20, Instagram introduced the new GIF capability in Instagram Direct. Per a blog post announcing the GIF function in Direct, there is a "new GIF button in the composer bar" that will allow you to send the whatever GIF fits the mood of your message to the recipient. It's really super simple to use, and you should be able to see it as long as you're updated to the latest version of Instagram.
Once you've gone to the App Store or Google Play to make sure that your IG is running on the latest version, you can have all the GIF fun in Direct. You have plenty of GIF choices, too. There are trending GIFs, or you can search for the perfect one with a keyword or two.
If you're really feeling daring, you can choose the "random" GIF with the blue background and dice on it to send a surprise GIF related to your search term. If you're wondering how accurate the results are, I typed in "funny," and my random GIF was an adorable pup with a cute AF expression that only a pooch could pull off. Just imagine the camera zooming in and out from this doggo's sweet mug, and you'll really get the full effect.
You'll find the new GIF button for Direct located right there in your Instagram Direct messages. Thankfully, it's clearly labeled with "GIF" inside of a square icon that is just to the left of the icon that allows you to insert an image or video in the message.
TBH, getting into the GIF game in your Instagram Direct is so simple, and once you start, you'll likely only communicate in GIFs from here on out. (I know I will.) Plus, what better way to break the ice when you're sliding into the DMs than with an adorable GIF of a pup (or really any animal, for that matter)?
Upping your Direct message game isn't the only update from Instagram as of late. Just in time for the November 2018 midterm elections, the social media app has provided a way to help users stay on top of their civic duty to vote. By partnering with TurboVote for National Voter Registration Day, which is on Tuesday, Sept. 25, Instagrammers can check that they're registered to vote, learn how to register to vote, and make sure they know their local polling place's voting rules with the simple tap of an ad that will pop up in their Feed or Stories. It's a super simple way to make sure that you're all ready to cast your vote on Tuesday, Nov. 6.
With GIFs in Direct and all the info you need to make sure you're taking your civic responsibility seriously, Instagram is really looking out for your best interests this fall. Now, get outta here and go get that GIF-filled DM started with your current Insta-crush.