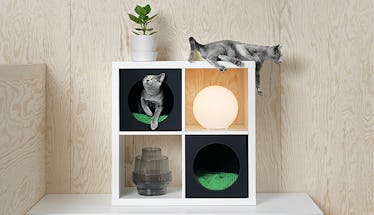 IKEA Is Selling Adorable Furniture For Your Dogs & Cats Because They Need To Be Comfy, Too
Pets are very important parts of our lives. You know this. I know this. And now, IKEA is really showing pets how much they mean by introducing a new line of pet furniture. Get ready to drop your next paycheck on IKEA's pet furniture collection.
According to Mashable, IKEA is no longer going to only be known as that place where you buy affordable and cute do-it-yourself furniture that puts every relationship to the ultimate test. Now, it's also going to be the place where you buy cute and affordable pet furniture for your beloved dog or cat. Hopefully, your pup will have fewer opinions about how to attach the legs of a coffee table. The collection launched in-store in October 2017 in Japan, France, Canada, U.S., and Portugal (Algarve).
IKEA's website has all the new goods listed, but you will only be able to buy them in the stores where they're sold. If you're not in one of the available locations, don't let that stop you from browsing the new IKEA pet collection, though, because this stuff is seriously adorable.
There's a range of products and prices, although most of it is pretty affordable — something that IKEA is well-known for and what makes it a go-to for new college students and homeowners alike.
From travel bags to beds to the delicately-named "pet waste" bags, you're bound to find something that you just can't resist picking up for your favorite furry friend.
If I'm being honest, some of my favorite products are the ones with animals in the pictures, so it should come as no surprise that I'm showing you this black-and-white LURVIG pet blanket as the perfect way to make sure Fido is comfy-cozy as the cooler seasons roll in. The best part is that it costs just under 20 bucks, coming in right at $19.99.
Maybe you're into spoiling your pup or cat (totally understandable), and you want to treat them to a special bed where they can relax with their new blanket. Even though this next products is missing a canine model, it's still one of the many chic AF options from the IKEA pet line that will make your dog or cat feel super specials as they snooze on the LURVIG dog/cat bed.
The black futon-like pet bed even folds out to create a larger sleeping space for curling up just won't cut it.
People who frequent IKEA on a regular basis will be familiar with the KALLAX cube — you probably even own a unit or two. Well, now you can let your cat in on the fun, because the new IKEA pet collection includes a KALLAX insert especially for your favorite cat. It's called the LURVIG cat house, and the black insert will fit perfectly inside your cube or shelf unit. Bonus: The online image does have some kitties enjoying all that the cat house has to offer.
If you're super excited about the possibility of filling the rest of the rooms in your place with furniture from the IKEA pet collection, but you're not quite sure how it will fit or look best, then you are in luck.
You can now download the IEKA Augmented Reality (AR) app, IKEA Place, that will let you visualize your purchases in your space before you bring them home. The app uses the AR feature from the latest iOS 11 download. First, it uses your camera to survey the space, and then the app lets you choose furniture from the IKEA website that you'd like to preview in your home. When you choose a piece, the app will place a 3-D version of whatever you choose in your actual space on the screen, and then you can make a decision from there on what will work best.
So, once you've previewed all the great goodies you want to pick up for your most loyal pup or purr-fect (sorry, I had to do it) cat, you can head to IKEA and get started on making your pets the most pampered ones in the house — as it should be.
Check out the entire Gen Why series and other videos on Facebook and the Bustle app across Apple TV, Roku, and Amazon Fire TV.