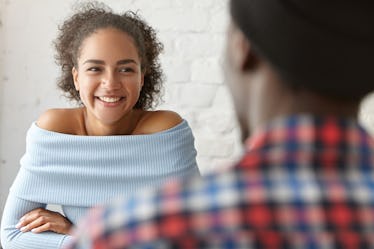 Here's How To Have A Love Life Even When Your Life Gets Super Busy
It's easy to feel like the pressures of everyday life make you feel like you're too busy to date. When work gets busier and your responsibilities grow, all you want to do is go home and cozy up to The Office and a pint of chocolate chip cookie dough ice cream. First of all, same. But the good news is, it doesn't have to be that way. You don't have to say goodbye to romance because your life is otherwise full.
"You do not need to sacrifice your love life if you're busy," Erica Gordon, millennial dating expert, founder of The Babe Report, and author of Aren't You Glad You Read This? assures Elite Daily. "The truth is that, if you date the right type of person, it can work out even if you're extremely busy." But what does that actually mean? "The right person will encourage you to hustle, and won't come down on you for not being available enough. A very secure person with the ability to trust will be able to trust in your relationship even if you don't have a ton of time for them," explains Gordon. The only problem is, how do you even meet someone like that when you're pressed for time? Here is how the experts say you can still have a dating life when every other part of your life feels overloaded.