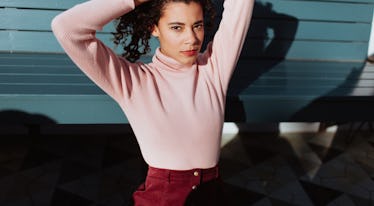 Here's Exactly What To Say When You're Tired Of Hearing You Need To "Put Yourself Out There"
You know what's just the worst? Being happily single, yet having all your friends insist you need to "put yourself out there." Being single has tons of perks, so it's totally possible to be a content single person. (Shocking, I know). But for some reason, people tend to assume that if you're not in a relationship, you're looking for one. They then follow up with unsolicited advice about how you, Single Person, should "put yourself out there" and find someone "so great!" So, what do you say when you're tired of hearing you need to put yourself out there? What do you tell your seemingly well-intentioned loved ones that you're fine, thanks, and you don't need to put yourself anywhere?
It's tough to confront people in general, but confronting someone you care about when you know they mostly mean well can be even tougher. When someone gives you advice (even the unsolicited kind), it can make you feel like you don't need anyone's input, thank you very much, you've got it under control. Also, what do you, Advice Giver, know about what I, Single Person, want/need? It's easy to get hung up on what you think someone's intentions are, especially when you don't particularly like that person. But when it's someone you love — like a parent, sibling, or best friend — it might be safe to assume that all they really want is for you to be happy. That's probably why they're giving you advice when you didn't ask for it.
What they often don't realize is that happiness looks different for everyone. Being in a relationship might be what happiness looks like for them, but if your happiness looks like flirting freely and casual hookups, that's also valid! You may also just be, oh, IDK, waiting to meet someone who you actually like enough to date! Who knew?! Not them, apparently. Consider what your advice giver's intentions are before confronting them, and use that as a way to guide the conversation in a more positive direction. This doesn't need to be a fight, but rather, a clarification that you don't need anyone but your bad self.