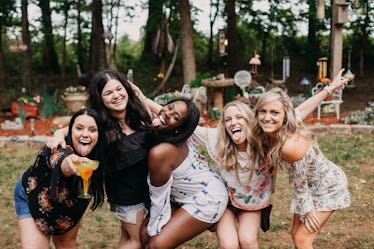 If You're The Mom Of Your Friend Group, These 7 Things Are True AF
Think of your friend group. Now think of the person who is constantly making sure that you're drinking enough water and being the voice of reason when you want to drop a ton of money on an extravagant handbag. Can't think of her? It's probably you. If you're the mom of your friend group, you know that these things are true AF.
You're probably the one who volunteers to be DD, you set your friends' morning alarms when you know they're going to be out late, and you remind them to text their actual parents every once in a while.
For as long as I can remember, my friends have always called me "mom." And even though my friend groups have changed so many times, the title has stuck with me. I used to hate it — even though I knew it was a term of endearment — because I thought it meant that I was too conservative or that I wasn't cool enough to be in the same category as the rest of my friends. But as I've matured and — in my opinion — really grown into the description, I proudly wear the title as a badge of honor.
Through its ups and downs, pros and cons, good days and bad nights, here are some things I've learned during my tenure as a permanent friend group mom.