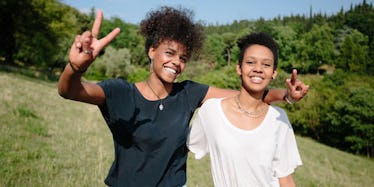 3 Actually Helpful Ways To Survive Dating Long-Distance For The Summer
When my college (now ex-) boyfriend and I officially became a couple sophomore year, he was heading to Italy for a semester abroad. I was in New York, navigating my first relationship long-distance. He left in January and came back in June. We saw each other in person twice before I headed off for my own study abroad in Paris that summer. With a little creativity, I found ways to make my long-distance relationship for the summer work for me and my then-partner.
If you're in a long-distance relationship this summer and are worried about how to keep the partnership strong, do not worry. There are plenty of things to do to keep your significant other close to your heart while you both are off doing your own things. Whether it's school being out of session, jobs keeping you in different locations, or travel that's separating you, there are several "tricks" I learned that summer in Paris.
That summer when I was in a LDR was one of the best of my lives, honestly. I lived in one of the most beautiful cities in the world (in my opinion), was surrounded by some of my best friends, ate delicious food, saw beautiful art, and learned a new language. It would've been even better if my significant other could join me during those few months, but asserting my independence, making new friends, and exploring places on my "own" was exciting in its own right.
This is my friend Emily (left) and I in a patisserie. Most of my adventures in Paris were with this cutie by my side.
What worked for me won't necessarily work for you, but these several things helped me feel closer to my SO when I was abroad, and I hope it can maybe help you and your partner, too.