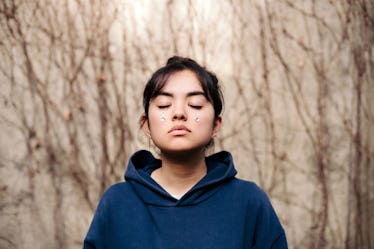 9 Texts To Send Friends When You're Going Through A Breakup & Need Space
Breakups can be tough for a million reasons. Even if you made the choice to end your relationship, you might still be missing your ex a ton. Additionally, you may want all your friends around to help you get through it or prefer to do it alone. If you do like to handle breakups on your own (or you want to just this time), you might want to shoot your friends a text to let them know. The good news is — if you're going through a breakup and need space, I have some sample texts you can send your friends to let them know what's up.
If you need space right now, you never owe anyone an explanation, because everyone processes breakups differently. Sometimes, my preferred method is Halo Top and This Is Us (I mean, if I'm going to be crying anyway, why not also be entertained?), and other times, as much as I love my friends, I just need my own space to regroup. Often, right at the beginning of a breakup, I'm not yet ready to talk about it. So as sweet as my friends are, speaking to them can give me anxiety. However, I love knowing that they're there for me when I am ready to talk, so I always try to show them my appreciation, even when I need to be by myself.
Read on to find nine texts to send a friend when you're going through a breakup and need space.