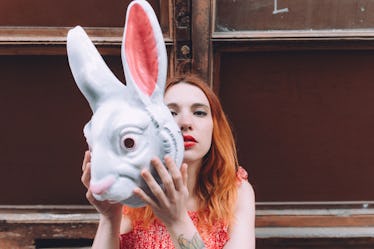 People Who Are Scared AF Of The Easter Bunny Can Really Relate To These 8 Things
If your nightmares tend to include a gigantically huge bunny with a basket and large teeth who is out to get you — you're likely afraid of the Easter Bunny. The Easter Bunny can be scary as hell if you really sit down and think about what you're actually viewing and experiencing. You're not being skeptical if you're afraid of the Easter bunny, and others with the same fear can relate to you in more ways than one.
I'm almost 26, and I can genuinely predict that my fear of the Easter Bunny will never go away. Even if the Easter Bunny offered me a plate of my favorite tacos with extra guacamole, I'd still be running for the hills at the sight of that perfectly white fur and robust ears. No, thanks.
You might feel kind of like an outsider because people cherish this life-size bunny. Mostly everyone is cheerful as they join the Easter Bunny in finding chocolate eggs that they laid. That statement right there — a bunny laying eggs — should be questionable AF, but everyone is swooning too hard to peep it. While you may have to explain this fear to people who don't understand why you don't hop at the chance to shake hands with the Easter bunny, other fearful people can surely relate to the struggle.