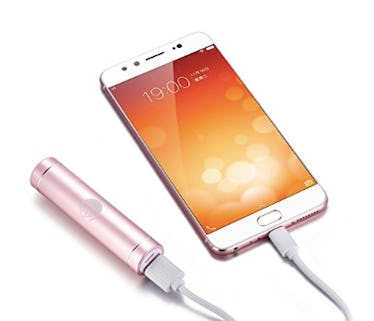 These Affordable Chargers Are Perfect For Powering Up Your Phone On The Go
Let's say you're exploring a new city or you're on your way to work, and you get this harrowing notification: "Low Battery, 20% Remaining." How could the battery percentage already be that low, even after you charged it for seven hours over night? Starting off the day with a low battery is incredibly inconvenient, especially if you need your phone for navigation or work-related purposes. If you have a phone that dies quickly, though, these cheap portable chargers will definitely come in handy.
No matter what you're doing, having your phone die midday can really put a damper on things. Trust me: I completely understand that technology isn't always 100 percent reliable, but why risk toting around a dead phone when you can buy an inexpensive portable charger? Some portable chargers can hook up to your phone using a USB chord, others are external, and a few of them come in really cute colors. Regardless of which one you choose, each of these options are small — yet smart — investments that are will definitely help you in the long run. Once you buy one, you won't have to constantly worry about always bringing your clunky phone charger with you, and you won't need to waste time looking for an outlet when you're on-the-go.