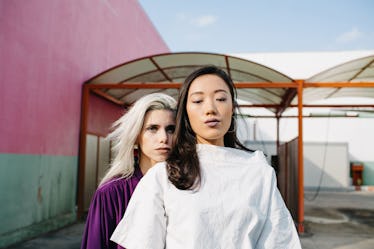 Here's What To Do If Your Family Doesn't Support Your Relationship
How important is it to you that your family likes your partner? If the answer to that is "very," then it can be a really serious struggle if your family doesn't support your relationship. But does it mean your relationship is doomed if you don't feel comfortable inviting your SO to family functions? "One of the more painful situations in life is when you fall in love with someone, only to realize that your family does not support your choice of a partner," Dr. Gary Brown, a prominent LA-based couples therapist, tells Elite Daily. "Family support of your relationship can be very helpful, and especially in a committed long-term relationship."
So, does this mean your relationship is destined to fail if you can't find a way to make your partner and family connect? Like all things having to do with love and family, the answer, according to experts, is that it's complicated. "It depends how close you are to your family. If being with family and valuing family is at the top of your list, then it's going to have a greater impact than if you aren't that close," Diana Dorell, intuitive dating coach and author of The Dating Mirror: Trust Again, Love Again, tells Elite Daily. If this is something that hits close to home, then here is what the experts say about how to navigate this tricky, and often painful, situation.