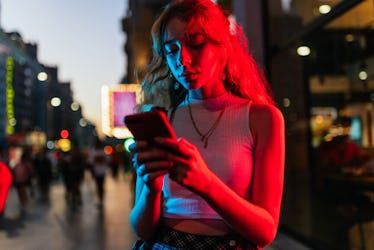 Here's How To Respond If Your Ex's Mom Texts You, So It's Not Super Awk
If you feel anything from warmth, to sadness, to sheer panic at the thought of your ex's mom texting you, it's understandable. Breakups are already painful enough as it is, but they can be even sadder if you developed a close bond with your ex's family. It's a bummer to think you can't go over to your ex's house for their dad's specialty dessert or to hang out with their dog. You might find memes you would've sent your ex's sister in a heartbeat, but now, you hesitate. And while running into your ex's family in public would have been lit pre-breakup, now it just feels awkward.
Even though the vibe between you and your ex's family might not ever be the same, there is room for courteous, civil interaction. Psychotherapist and life coach Katherine Weed says that post-breakup family dynamics, including those between you and your ex's mom, will depend on your existing, pre-breakup relationship. "If it was a toxic, unhealthy relationship and the mother was heavily involved in the drama, we will understandably respond in a completely different way than if it was relatively stable relationship, where we had an authentically close relationship with the mother," Weed tells Elite Daily. "The key is to not abandon ourselves or our own needs."
Here's how you can proceed with your ex's mom in a way that minimizes awkwardness, and maximizes well-being and peace of mind.