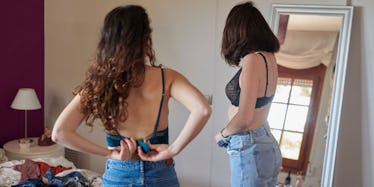 5 Stories About Awkwardly Interrupted Dorm Room Hookups That'll Make You Cringe
Part of the whole getting-used-to-college thing usually includes adjusting to dorm life. If you had a room all to yourself growing up, you'll need to get used to sharing your space with another person. That means you'll have to deal with another person turning the lights on and off, maybe listening to loud music, and yep — you bringing your hookups into your shared room with the possibility of your roommate interrupting. If your college roommate walks in on you hooking up, it could for sure get awkward real fast. But hopefully, they'll understand, and you'll likely both laugh about it later.
Some roommates develop a system: They'll put a sock on the door or find some way to notify the other to not disturb them or come home. For some, a simple text like, "Don't come in the room for the next hour please," will suffice. But sometimes, people can forget to give a head's up, or your roommate might desperately need to grab a textbook from their bookshelf. Here are some stories in which someone interrupted... it felt terribly awkward at the time... but most importantly, they're able to look back on it now and laugh.