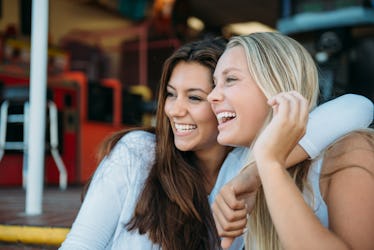 8 Things Your Best Friend Should Know About You If She's Actually "Your Person"
Forget Prince Charming — your best friend is truly your other half. You both have shared so much with each other by spending every waking moment you can get together, gossiping about everything you love and love to hate. That pretty much makes your BFF an expert on the subject of you, and just like in school, you can test your best friend's knowledge with a simple pop quiz. Because after all, there are just some things your best friend should know about you. If she fails, that could very well mean she's not really "your person."
Being "your person" is taking the title of best friendship up a notch. It's basically like leveling up in a video game. "Your person" is the missing puzzle piece you were born without, and thank goodness you have finally found her so you can be whole again. In Grey's Anatomy, Cristina Yang and Meredith Grey are each other's "person." They are there through everything dramatic thing that happens at Seattle Grace, and they know exactly when a random dance-it-out moment needs to happen.
Your BFF should be "your person" to you, but in order to do that, she needs to be able to answer these eight crucial questions. The answers shouldn't be too hard for "your person" to figure out. After all, there really is only one last piece to a puzzle that fits just right... and she's just that.