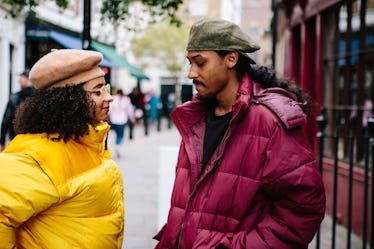 4 Strategies To Decrease How Often You Fight With Your SO, According To A Dating Expert
No matter how compatible you are with a partner, it's essentially impossible to avoid getting into fights from time to time. If, however, your fighting is so frequent that it's getting in the way of enjoying your time together, this could mean that something's not quite right in your relationship. To decrease how often you fight, it's important to realize that having differing opinions on things might not be the crux of the issue.
I spoke with best-selling author and NYC dating expert Susan Winter to get some tips on how much fighting is too much fighting, and to see if she had any strategies up her sleeve that might help couples lessen the amount of conflict in their relationships.
"Frequent conflict becomes a problem when it's chronic," Winter tells Elite Daily. "This means there's no conflict resolution occurring within the relationship construct."
The most effective way to resolve conflict may vary from person to person, but it's important to take the time to figure out how you and your SO can best deal with disagreements both as individuals and as a team. If the increasing frequency of your fights is a prolonged issue, here are some ways to help keep things chill.