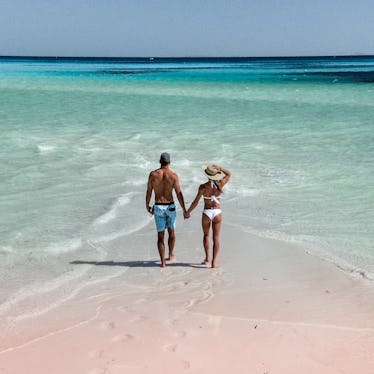 6 Relationship Red Flags You Can Spot After Your First Vacation Together
Every new relationship has major milestones to cross. There's the first date, first kiss, first sleepover, first Instagram post, and the first time you go on vacation together. For people like me who love adventure and traveling, vacations are an important way to discover how well you and your partner mesh. And while the hope is that everything goes swimmingly well, sometimes you may notice relationship problems after going on vacation together.
Let's face it — travel isn't always what it looks like in Instagram photos. Sure, it's fun to visit a beautiful place together, but it also breaks you out of your normal routine and forces you to adapt to a new environment. And when you're with your partner navigating all this unpredictability, you learn a lot about each other. In fact, I'd argue that it's one of the best ways to get an idea of your long-term compatibility with someone. "The next best thing to living together for learning truths about your partner is to travel together," Dr. Fran Walfish, family and relationship psychotherapist and author, tells Elite Daily. "You will soon know whether you can move forward together and your relationship can survive if you jump in and talk together [about] conflicts as they emerge."
If all goes well, travel can give you lasting memories you and your partner will cherish for months or years to come. But it may also reveal some red flags you never noticed before. To learn more about what to look out for, I spoke to two travel influencer duos who travel the world together full-time (so you could say they know a thing or two about baecations). As you embark on your first vacay as a couple, look out for these signs you might not be as compatible as you thought.