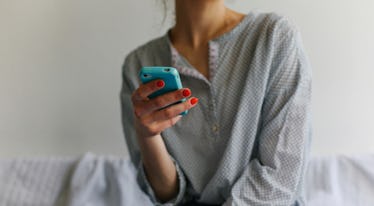 5 Texts To Send Your Hookup Buddy When You Just Need Space
The good thing about casual relationships is just that: They're casual. People chose to be in them for lots of different reasons, and the fact that you get some of the best parts of a relationship without being tied down is pretty appealing, if that's something you both want. But because the relationship is "casual," it can also be a little confusing, especially when it comes to breaking up. If you're not sure how to break the news, these texts to send when you need space might do the trick.
I know, I know. Breaking up over text is so impersonal. I agree! When you're in a relationship that you want to end, breaking up IRL is usually the way to go, especially if your partner has been good to you. The thing is, a hookup buddy isn't a full-on relationship — it's a situationship. If you haven't established anything serious or called each other boyfriend or girlfriend, the lines get blurred. Some people go with the flow and create boundaries as they go. Others like to have things laid out, à la friends with benefits. Either way, certain things that would be easily defined in a real relationship aren't so easily defined in a situationship, especially if it's as casual as a hookup buddy.
When you feel like you and your hookup buddy's situationship has run its course, it might be time to end it. You shouldn't be involved in anything you don't want to be involved in anymore. But because the rules are so unclear, how do you do it? Do you need to let them know IRL that you're not into it anymore? Is it kind of OK to just… ghost? When you don't know which way to go, sending a respectful text is probably a good idea. It's casual enough to match the nature of your situationship, but formal enough where you're giving the other person some courtesy and closure. Here's some inspo for what to say when you're feeling stuck.