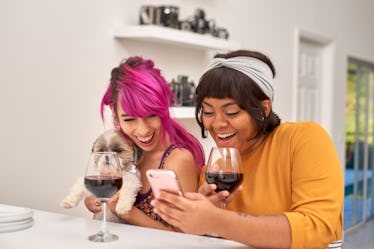 Here's What To Do If You're In A Relationship But Kinda Miss Using Dating Apps
After all of that swiping, matching, chatting, and meeting, you've finally landed yourself a keeper. You're in a relationship with a great person, but sometimes, you still miss using dating apps. You may be wondering whether having the occasional urge to swipe is something you should be concerned about, which is a totally valid question. It turns out that there are a number of reasons why you might miss dating apps. The explanation may be as simple as you're easily bored and you miss having a mindless activity to distract yourself with, or it could be more complicated — and could potentially be an indicator that you're unhappy with some aspect of your relationship.
I spoke to Dr. QuaVaundra Perry, a licensed psychologist who specializes in couples' therapy and relationship distress. She explains that there are a few things to consider if you're in a relationship but find that you miss dating apps. She provided a list of questions to ask yourself, which, when answered honestly, can help determine if there is an unresolved issue within yourself or your relationship. Before you start to panic, you should ask yourself the following four questions. Then, evaluate your answers based on Dr. Perry's expert advice.