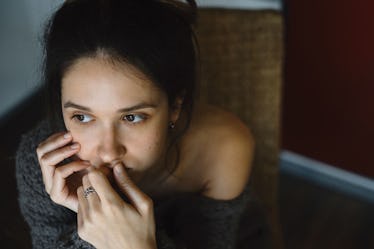 Here's What It Means If It Takes You A Long Time To Get Over A Breakup, Experts Say
No two breakups are exactly the same. Trust me, I've been through my fair share (and then some). The quickest I've ever bounced back from the end of a relationship was minutes. And the longest, well, that one took years to get over, which really sucked. The good thing is that I did eventually get over it. What I learned in the process was that, because no two relationships are alike, it follows that their demises would also be unique. But it's easy to be philosophical about why it takes a long time to get over a breakup when you aren't in the midst of the heartbreak. When you're in the thick of it, all you really want to know is: Why is this happening and when will it end?
While no one can tell you the exact amount of time you're going to mourn your relationship ending, you can get a deeper understanding of why you're hurting, and, by shedding some light on that, you may, in turn, be able to speed up the healing process. To help with that, I reached out to NYC relationship expert Susan Winter for her insights into why some breakups just take so much longer to get over. Here's what she said.