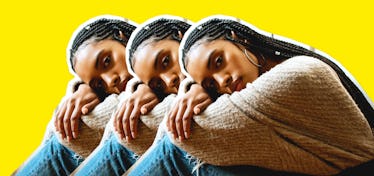 If Dating Apps Make You Feel Lonelier Than Ever, Do This
Stocksy, Addictive Creatives
Sometimes, instead of giddiness or hope that you're one step closer to finding your next partner, dating apps can make you feel lonely AF. It's normal to feel disappointed when you're looking for compliments and flirty banter, but get sucked into small talk about pets, unpredictable weather, or Brooklyn Nine-Nine instead. Maybe you turn on your notifications so you don't miss any matches, but your phone rarely pings. If dating apps just make you feel lonely instead of excited, you're not alone — there's a concrete explanation for your feelings.
Todd Baratz, a sex and relationships psychotherapist, points out the abundance of potential matches on dating apps can make using them stressful. If you or your match are overwhelmed with options, meaningful, deep conversations can be hard to have. "Flooded with choices based on two dimensional profiles, any person will easily become overwhelmed and spread thin," Baratz tells Elite Daily. "Some people are using five apps and talking to three people on each. This is too many. This is how dating apps exacerbate or reveal preexisting loneliness."
When dating apps are making you feel more isolated than connected, here's what you should keep in mind as you continue your dating journey.