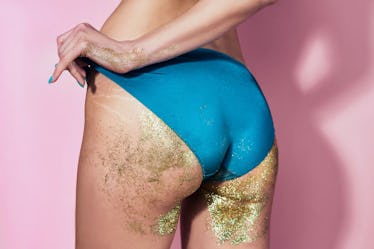 If Chafing During Sex Is An Issue, Here Are 7 Products To Help Save Your Skin
Summer is great, but it does have its downsides. The high temperatures mean that things between you and bae can get a little too hot and heavy. If you shave or wax your pubic hair, all that friction between your sweaty, sticky, naked bodies can lead to uncomfortable or even painful external chafing during sex. Even if you don't mind much in the moment, once you're finished, you might notice it after the fact.
"The number one reason for [external chafing] is lack of pubic hair. The purpose of pubic hair is to decrease chafing. It's not only a barrier, but it's also a lubricant, because there's oil in hair," says Dr. Lauren Streicher, an Associate Clinical Professor of Obstetrics and Gynecology at The Feinberg School of Medicine and author of Sex Rx: Hormones, Health, and Your Best Sex Ever.
In the event that you're experiencing any significant discomfort during sex, you should make an appointment with your gynecologist to make sure it's nothing serious. In the meantime, letting your pubic hair grow out is the best way to prevent vulvar chafing during sex. "The majority of the reason that women get this redness and irritation is from the hair removal process itself. When people are waxing, shaving, and using depilatories, that can be very irritating to vulvar skin," says Dr. Streicher. "People never want to hear this, but the reality is ... if they want to remove hair, they should just clip it."
When you do need to treat an already affected area, these seven products can help you feel better. Just note, none of these products are safe for internal use. It's important to know the difference between vaginal lubricants — which help with internal vaginal dryness — and products that are meant to be used externally. "A vaginal lubricant goes in the vagina, as opposed to on the mons pubis, which is where the chafing is going to occur," says Dr. Streicher.
For Prevention
1. Dusting Powder
Tight clothing and underwear can further irritate a chafed vulva, as can excessive sweating. This delightfully scented Lush dusting powder helps control perspiration — think of it like baby powder for grown-ups. The cornstarch base absorbs moisture and added cocoa butter shavings work to nourish your skin. A floral fragrance keeps you smelling great, while the powder itself ensures your skin is smooth and dry. Sprinkle Silky Underwear anywhere that gets especially sweaty — like in your bikini line, under your boobs, or between your thighs. Don't use this internally, and be careful when putting it directly on your vulva. Products with perfumes or preservatives may be irritating, according to Dr. Streicher.
For Prevention And Treatment
2. Chafing Relief Powder Gel
Monistat knows vaginal health, so it makes sense that the brand famous for its yeast infection treatments has also got you covered when it comes to vulvar chafing. When applied daily, this powder gel provides relief from irritation and chafing, and also works to prevent further friction-related damage. The main ingredient is Dimethicone, which Dr. Streicher says is essentially a silicone lubricant, and is safe for use on the vulva.
3. Organic Vaginal Moisturizer & Personal Lubricant
Another option to both prevent and treat chafing is this organic moisturizer from BeeFriendly Skincare. This natural, beeswax-based product is USDA certified organic, and contains no harsh chemicals or harmful ingredients. Designed specifically for use on the vulva, it reduces dryness, chafing, itching, irritation, and inflammation of the vulvar skin and surrounding vaginal areas. Beeswax is proven to keep skin soft and supple, and the added Vitamins A and E don't hurt either.
4. Coconut Oil
In the same all-natural category, one of coconut oil's many uses is for skin care. You can use any organic, 100 percent pure, cold-pressed coconut oil on the most sensitive areas of your body.
For Treatment
5. Vaseline
Vaseline definitely has soothing powers. Apply some to any red spots you can see, but again, you don't want to put it inside your vagina. Vaseline is a petroleum-based substance, which makes it incompatible with latex products like condoms. Additionally, the petroleum jelly in Vaseline has been connected to yeast infections and more serious conditions such as bacterial vaginosis and pelvic inflammatory disease.
6. Aquaphor
While she explains that the less you put on your vulva, the better, Dr. Streicher says you can use Vaseline or Aquaphor externally. "When you're looking at protecting vulvar skin, usually a Vaseline product or Aquaphor (a variation of Vaseline) is going to do a nice job." This one definitely shouldn't be used internally at all, so just stick to the skin on your vulva.
7. Body Recovery Cream
Finally, if you're really sore after sex, try using an intensive body recovery cream like this one from Weleda. The arnica flower extract soothes aching muscles and de-stresses you as well. Simply massage the cream onto any external sore spots two or three times a day, or as needed.
Remember: avoid products and behaviors that may irritate the vulva, and stop hair removal if possible. Keep any chafed areas on your body clean and dry, and treat the symptoms as soon as possible to prevent further inflammation. Wearing soft cotton underwear and loose clothes will help you feel better as well. With the proper care, chafing should heal within a few days. And if you're unsure about anything you see or feel on, in, or near your vagina, call your gynecologist or primary care provider right away.